Thanks for visiting HoyaSaxa.com. This is the site where you will find more news and information than you'll probably ever need to know about Georgetown University men's basketball. If you're looking for the official athletics site instead, click here.
With 12 days until the Big East Tournament, here are the brackets based on the current team standings. Obviously, the pairings are subject to change, so this page will be updated daily through the completion of the field on March 7.
College basketball in the last weekend of February is all about finishing strong, and it's on the minds of Georgetown and St. John's heading into the 103rd meeting of the classic Big East schools.
Georgetown holds a narrow lead in the race for a second seed in the upcoming Big East tournament, and holds no tiebreakers on the likes of Xavier and Providence. A strong finish keeps the Hoyas out of the bracket with #5-ranked Villanova, who has only won the Big East tournament once in its entire history (1997) but enters March as strong as any recent team.
But the Hoyas also remember a bitter 82-60 walloping at the hands of St. John's last season, reversing a convincing Georgetown win at Verizon Center. A similar scenario is the hope for St. John's, which has fought its way back into the NCAA discussion and needs one more win to guarantee itself a Big East record of at least .500--in most years, a favorable argument for any at-large bid.
The Redmen have won five of six and are enjoying its best record since the 1999-2000 team that won the Big East title. Its only loss since Feb. 7 was to Georgetown, and revenge is no small factor in this game.
More on the Redmen follow Friday evening at the Pre-Game Report page, along with other coverage of the game, which will be broadcast on CBS.
A game between Georgetown and St. John's hasn't sold out the Garden in over 25 years, but Saturday's game figures to draw the best attendance in the series since 2001:
| Date | | Score | | | Att. | | Date | | Score | | | Att. |
| --- | --- | --- | --- | --- | --- | --- | --- | --- | --- | --- | --- | --- |
| 1/6/1982 | W | 72 | - | 42 | 19,591 | | 2/1/1997 | W | 71 | - | 68 | 13,121 |
| 1/8/1983 | L | 67 | - | 76 | 19,591 | | 1/11/1999 | L | 69 | - | 71 | 9,563 |
| 1/21/1984 | W | 83 | - | 61 | 15,901 | | 1/12/2000 | L | 66 | - | 75 | 11,882 |
| 2/27/1985 | W | 85 | - | 69 | 19,591 | | 2/21/2001 | L | 70 | - | 73 | 14,168 |
| 1/11/1986 | L | 74 | - | 79 | 19,591 | | 2/18/2004 | L | 58 | - | 65 | 6,192 |
| 2/2/1987 | L | 65 | - | 67 | 17,093 | | 2/20/2005 | L | 67 | - | 76 | 7,464 |
| 2/24/1988 | L | 66 | - | 69 | 17,892 | | 1/8/2006 | W | 79 | - | 65 | 5,812 |
| 2/25/1989 | W | 63 | - | 55 | 19,591 | | 2/1/2007 | W | 72 | - | 48 | 7,797 |
| 2/3/1990 | W | 74 | - | 67 | 17,588 | | 1/30/2008 | W | 74 | - | 42 | 9,924 |
| 2/25/1991 | L | 58 | - | 68 | 14,029 | | 3/3/2009 | L | 56 | - | 59 | 9,959 |
| 3/2/1992 | L | 49 | - | 65 | 16,816 | | 1/3/2011 | L | 58 | - | 61 | 8,897 |
| 2/1/1993 | L | 61 | - | 79 | 11,690 | | 1/15/2012 | W | 69 | - | 49 | 11,475 |
| 2/19/1994 | W | 74 | - | 61 | 13,378 | | 1/12/2013 | W | 67 | - | 51 | 11,057 |
| 3/5/1995 | L | 77 | - | 86 | 17,238 | | 2/16/2014 | L | 60 | - | 82 | 10,340 |
| 1/27/1996 | L | 72 | - | 83 | 13,888 | | | | | | | |
From HoyaSaxa.com, Feb. 17, 2014:
"Georgetown's hopes of a fifth consecutive NCAA appearance took a step backward as the Hoyas were no match for St. John's, 82-60, at Madison Square Garden Sunday night. The Redmen scored the first 15 points of the game and never looked back, handing the Hoyas its worst loss in the series between the schools since Dec. 9, 1972, a 109-68 loss at Alumni Hall during John Thompson's first season as head coach.

Rysheed Jordan led the way with a career high 24 points, scoring the first seven points of the game en route to 22 points overall for the Redmen (17-9), who have won eight of its last nine. The Hoyas opened the game missing six straight shots with three turnovers as Jordan put the Redmen up 15-0 at the 14:22 mark. A Markel Starks three pointer, Georgetown's only such three of the half, was the Hoyas' first basket of the game at the 12:55 mark but the die was cast in this one.

Georgetown shot over 50 percent for the remainder of the half, but made little headway against a St. John's team that was shooting 68 percent from the field--inside, outside, and everywhere in between. Three times in the first half Georgetown closed the lead to ten--as late as 3:21 in the first half, Georgetown trailed 36-26-- only to go scoreless from the field thereafter as St. John's carried a 46-28 lead into intermission, the largest halftime deficit by Georgetown in a Big East game in five years.

A give-and-go from Nate Lubick to Markel Starks six seconds into the second half gave some hope to the Georgetown contingent at the Garden, but Georgetown would manage only one more basket over the next four minutes as the redmen built a 20 point lead, 52-32, at the 17:25 mark. The Hoyas began a run with a basket by Lubick and an assist from Lubick to Smith-Rivera, as the Redmen went cold. Over the next ten minutes, Georgetown cut the lead to eight, 61-53, as St. John's guard D'Angelo Harrison accounted for the only Redmen points in the run.

With 6:54 left, Georgetown answered a pair of Jordan free throws with a Smith-Rivera three to return the lead to eight at 61-53. At the 6:10 mark, Jabril Trawick was flattened by a Chris Obekpa charge but was assessed a technical foul in the scrum, his fifth personal foul. From that point Georgetown did not score a basket for the remainder of the half, as St. John's closed out the game on a 17-3 run."
From the Georgetown Basketball History Project: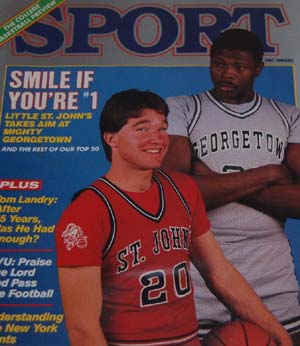 The first ten years of the Big East were dominated by three teams: Georgetown, Syracuse, and St. John's--combining to win each of the first ten men's basketball tournament championships. Georgetown-Syracuse was a growing national rivalry, but for fans of Eastern basketball, Georgetown-St. John's was in a league of its own.
The rivalry reached its zenith in the 1984-85 season. Georgetown returned three starters and nine lettermen from its 1984 NCAA championship team, while the Redmen returned four starters and added the #1 transfer in the nation, junior college All-American Walter Berry. With Georgetown a consensus #1 in the 1984-85 pre-season AP poll, St. John's wasn't far behind at #7, despite an early season upset at Niagara on Dec. 15. With the Purple Eagles behind them, St. John's ran off nine straight and a #3 ranking behind the Hoyas, who had won 18 straight to begin the season and 29 overall since the Redmen defeated the Hoyas on Feb. 21, 1984 at Capital Centre.
Georgetown opened the 1984-85 season as the nation's top ranked team, but erased all doubts when it destroyed #2 DePaul 77-57 in mid-December, and talk of a possible undefeated season was on. The loss of Fred Brown, Gene Smith and sophomore Michael Graham (under a one year academic suspension by coach John Thompson) began to impact the Hoyas in December, where a late season tournament in Puerto Rico led to a pair of narrow wins, including a 61-56 win over North Carolina A&T. A pair of overtime scares followed the Hoyas into January, with an 82-80 win over Boston College and a 52-50 nail-biter over Villanova in which Ed Pinckney finished just 2-9 in the two point loss.
Before a national audience on CBS, Georgetown met St. John's, 14-1 and #3 in the Associated Press poll behind Southern Methodist. The Redmen were no stranger to Capital Centre, having defeated Georgetown in each of the prior two seasons in Landover on the back of senior All-American Chris Mullin. Mullin averaged 27.4 ppg in the last five meetings with Georgetown, including a 33 point effort in St. John's 75-71 win at Capital Centre on Feb. 21, 1984, Georgetown's last loss heading into the game.
St. John's coach Lou Carnesecca returned to some old tricks in defending Georgetown in the game. Two years earlier, Carnesecca had inserted 6-4 forward Kevin Williams to pester, harass, and (some would say) hack Ewing at every turn, hoping for some quick fouls and otherwise disrupt play. Ewing finished that game 4-14 from the field and the Redmen won by nine, 76-67. Williams had graduated by 1985 but the strategy was back in force--drop two and three men around Ewing to help center Bill Wennington and force the action outside. Ewing got into early foul trouble as St. John's took a surprising 40-30 lead into intermission despite shooting only 33% from the field.
The key to the game for St. John's was junior college transfer Walter Berry. A high school All-American at New York's Ben Franklin HS in 1982, Berry quit school and hoped a GED would admit him to St. John's, but the NCAA ruled him ineligible, whereupon he retreated to junior college in Pasadena, TX. Berry joined the Redmen in the fall of 1984 and was a major factor in this game, scoring 14 points, 13 rebounds, and holding Georgetown's Reggie Williams to 1-6 from the field. Berry, who would follow Ewing as National Player of the Year in 1986, had declared that he wasn't intimidated by the Georgetown center and the numbers reflected it.
St. John's shot over 60% in the second half. "The Redmen watched an enormous lead ebb from a high of 18 points with 10:46 left, to 13 at 8:48, to eight at 2:35, to three at :19, to one at :05, at which time, in the most intelligent play of the game, Mullin cradled the ball in the safety of out-of-bounds after the Hoyas' final basket," wrote Sports Illustrated. "There would be no more ebbing only because there would be no more time. Had the game lasted another five minutes, Georgetown might have won by 15."
"I've been through this before with Georgetown," said Carnesecca. It's not always enough to be up by 18. Thank God we had that cushion."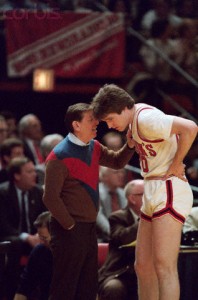 With SMU upset by Texas Tech the same day, it was now St. John's at #1, symbolized by a lucky sweater worn by Carnesecca in each of his last five wins. For a month or so in 1985, the Redmen were the toast of college basketball.
Georgetown shot just 40% (27-67) from the field and 50% (11-22) from the line--not unexpected in a season where the Hoyas made just 62% from the line in Big East play, but disheartening nonetheless. Ewing finished with 15 rebounds but only nine points, while Williams was 1-6 against the Redmen and 2-11 two nights later in a 65-63 loss at Syracuse.
The win catapulted the Redmen to the #1 spot for exactly one month and brought the 60 year old Carnesecca into the national spotlight, including an old sweater he wore to combat the effects of the cold. With the first New York team at #1 since City College in the early 1950's. the sweater was deemed good luck by the New York media, and Carnesecca wore it every game thereafter, as St. John's won its next ten to sold out crowds across the Big East.
For its part, following back to back losses to St. John's and Syracuse over a three day period, the Hoyas turned things around in a big way. A 27 point rout of Arkansas began a seven game win streak by an average of 17 points, with only one opponent (Villanova) below double digits. With Georgetown picking up its offense and improving free throw shooting that failed it in the Jan. 26 game (the Hoyas shot 11-22 from the line that day and lost by one), both teams were flying high into the second game of the series.
To say this was a big game was an understatement. #1 vs. #2 games are not uncommon but this late in the regular season and within the same conference was highly unusual. Add in the bright lights of Madison Square Garden and a nationwide TV audience on the six year old ESPN network, and the pre-game hype was off the chart.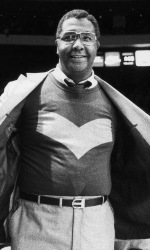 The $12.50 list price of tickets were being scalped for $300 apiece. The Redmen were across the front covers of the city's dailies. And in a nod to the glory days of New York's past, the game was actually a doubleheader. In the opener, City College defeated NYU 62-56, two schools that had dropped to Division III and had not seen a scene like this in a generation.
"In scalper's terms, it's Ali-Frazier I," said ESPN's Len Berman, noting the game as the first time in the history of the Garden that #1 had ever met #2.
If there was hype, there was also apprehension. This was John Thompson's first appearance in the Garden since the celebrated battle with Syracuse in the 1984 Big East tournament. At the pre-game warmups, Carnesecca came out with his sweater. As the crowd rose to see Carnesecca meet Thompson, the Georgetown coach opened his coat to show a $9 t-shirt replica of the same sweater. The arena roared with laughter and at the same time, whatever mojo Carnesecca had kept with the sweater was soon spirited away. The game now had a name of its own: the "sweater" game.
"With all the talk about the sweater, I thought I'd better get one, too," said Thompson. "If the sweater can carry us to victory, I wanted one."
He got it.
Georgetown started out strong and maintained a lead through all but a minute of the first half, shooting 59% from the field, forcing 11 turnovers and committing just three, and taking a 44-33 at the break. With the lead at nine, 69-58, the Hoyas went into overdrive with 7:15 to play in the second half:
The key to Georgetown's play was senior Patrick Ewing. From a subpar 3-7 effort in the Jan. 26 game, Ewing was 10-13 from the floor and dominated inside: 20 points, nine rebounds, six blocks.
As for defending Ewing, "I tried everything I could, Nothing worked," said St. John's Bill Wennington, one of six eventual first round NBA selections on the floor that evening. "We had five guys around him and he still put the ball in."
Sophomore Reggie Williams scored a then career-high 25 points on 9-13 from the field and 7-8 from the line. Mullin was held to 21 points on 8-16 shooting and was no match defensively for Williams on the perimeter.
Ever the gentleman, there were no complaints from Carnesecca. "They were marvelous," he said.
The two teams met nine days later in the Big East final, won by Georgetown 92-80. In the national semifinal, an unprecedented fourth matchup was all but settled early as the Hoyas dominated 77-59. Despite the lofty standing of the Big East final and the Final Four, both paled in comparison to a magical night in New York basketball that has not been equaled.
St. John's finished the season 31-4, its best ever. Of the four losses, three were to Georgetown.
Here's the box score from the game:

ST. JOHN'S   FG    FT  PTS
Starters:                                 
Moses        2-4   0-0   4  
Mullin       8-16  5-6  21
Glass        1-4   1-2   3
Berry        4-7   8-11 16
Wennington   3-8   2-2   8
Reserves:
Jones        1-1   0-0   2    
Jackson      2-3   4-6   8
Rowan        0-3   1-2   1
Stewart      1-4   2-2   4
Bross        0-1   2-2   2
Shurina      0-0   0-0   0
Cornegy      0-0   0-0   0
TOTALS      22-51 25-35 69

GEORGETOWN   FG    FT  PTS
Starters:                                 
Jackson      3-9   0-0   6  
Wingate      5-7   2-3  12
Martin       3-5   0-0   6 
Williams     9-13  7-8  25
Ewing       10-13  0-1  20 
Reserves:
McDonald     3-6   1-2   7    
Broadnax     0-4   0-0   0
Highsmith    1-1   0-0   2
Mateen       0-0   0-0   0
Dalton       3-4   1-2   7
DNP: Floyd, Lockhart
TOTALS      37-62 11-16 85

As always, prior stories over this past week or the last 15+ years of coverage can be found at the News Archive pages, including recaps of all prior games over the season. It's a good way to keep up to date if you've visit the site less frequently. The last 10 stories:
To further search this site or the Basketball History pages, enter your query below.
Loading
This is an unofficial site for Georgetown Basketball. If you are interested in playing a sport at Georgetown, contact the Department of Athletics, Georgetown University, Washington, DC 20057. General information for prospective student athletes may be found at this NCAA link.
N.B.: This not-for-profit site is supportive of, but neither directly affiliated with nor under the supervision of Georgetown University or the Big East Conference. See the Fine Print page for more details.
AMDG