Peak: "Coach Thompson Taught Me A Lot"
From L.J. Peak's Facebook page: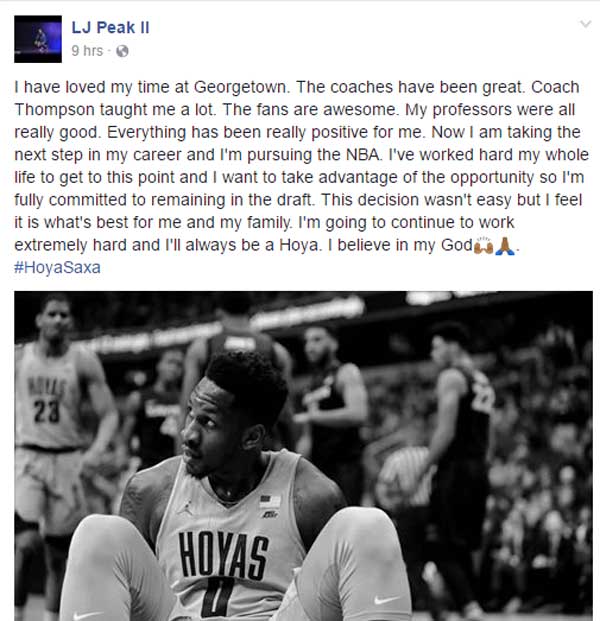 ESPN: Peak To Declare For NBA Draft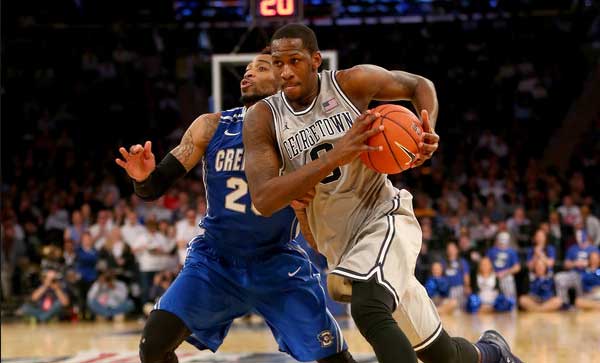 ESPN.com is reporting junior guard L.J. Peak will forego his senior season and pursue the NBA draft.

The 6-5 junior averaged 16.3 points as the second leading scorer to Rodney Pryor this season, and was seen as likely to test the NBA waters.

Continued...



Depth Chart: Transfers, Attrition Taking Its Toll
With two prior transfers this season and an NBA early entry, the current 2017-18 depth chart is as weak as it has been since the 2003-04 season.

The 2003-04 season, the last season under head coach Craig Esherick, saw a loss of 60 percent of its scoring from the prior season, with three graduates, two transfers and the move of junior forward Mike Sweetney to the NBA Draft.

This season also feartures three losses from graduation (Pryor, Hayes, Cameron), two transfers (White, Copeland) and an NBA hopeful in Peak, amounting to 53 percent of Georgetown's scoring from 2016-17.

The current depth chart lists four openings for 2017-18, with two open offers reported but not accepted. One or more fifth year transfers seems a likely outcome to provide depth.


PG
SG
SF
PF
C
Mulmore
(Sr., 3.6)
Mosely
(So., 4.2)
Johnson
(Jr., 2.3)
Derrickson
(Jr., 8.7)
Govan
(Jr., 10.1)

---

Campbell
(Sr., 3.1)
Hines
(Sr., 0.2)
Walker
(Fr.)
Mourning
(Sr., 0.8)
Agau
(RSr., 4.5)

---

(Open)
(Open)
(Open)
(Open)
Muresan
(So., 0.0)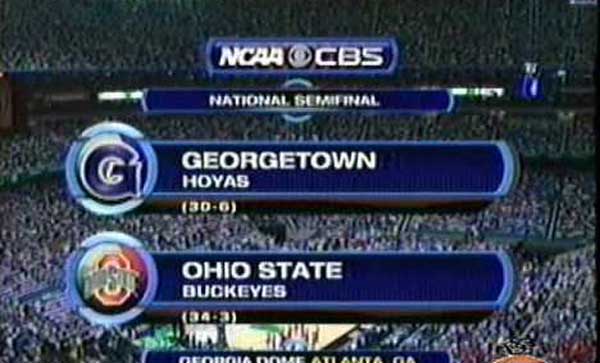 From The HoyaSaxa.com archives, March 21, 2007: "A Harris poll taken last week lists Georgetown as the nation's seventh most popular basketball team.

"The poll of 2,223 adults, with a statistical error of +/-2%, lists Georgetown seventh, its first placement in the poll since 1996. Eight of the top ten played in this year's NCAA tournament, with four of the remaining 16 represented in the poll, which was conducted before the beginning of the tournament."

Continued...



HOYA Editorial: Men's Basketball Needs Transparency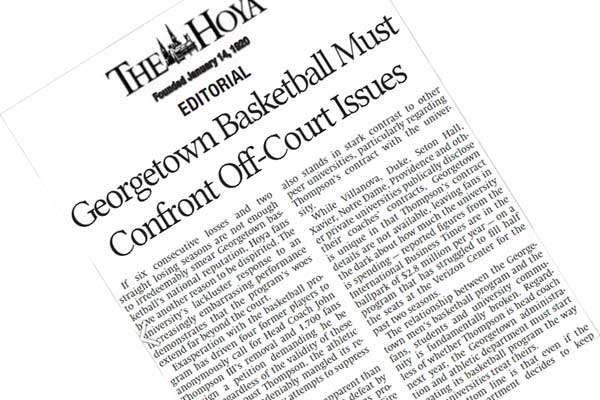 Nature abhors a vacuum, and so do newspapers.

With no press release or social media in over a week following Georgetown's loss in the Big East tournament, an editorial in The HOYA asks for greater transparency within the program.

"Regardless of whether Thompson is head coach next year, the Georgetown administration and athletic department must start treating its basketball program the way peer universities treat theirs," writes the paper.

Continued...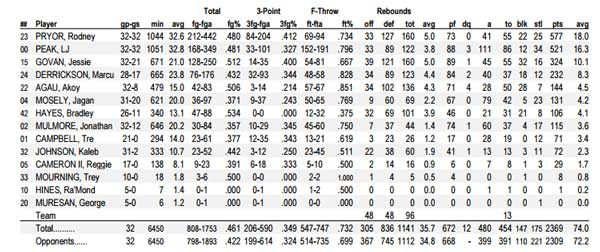 From GUHoyas.com.
-->