Thanks for visiting HoyaSaxa.com. This is the site where you will find more news and information than you'll probably ever need to know about Georgetown University men's basketball. If you're looking for the official athletics site instead, click here.
The Georgetown Hoyas survived 13 threes at the hot hand of the Marquette Warriors and gutted out a thrilling 95-85 win in overtime Saturday at Milwaukee's Bradley Center, only the second GU win ever at Marquette.
The two teams entered Saturday's game ranked 1-2 in team defense with the Big East but that was out the window early. Marquette guard Matt Carlino hit on each of his first four attempts from the field, all threes, within the first five minutes of play, sending Fox Sports announcer Eric Collins to channel his inner Gus Johnson in raising the praise for Carlino's efforts. Georgetown wasn't far behind with a pair of threes from D'Vauntes Smith-Rivera and six points from Mikael Hopkins to tie the score art 14 with 14:09 in the first half. marquette did not attempt a two point shot for nearly seven minutes in the contest.
Georgetown's lineup saw some significant changes in the game. Three minutes into play, L.J. Peak's ankle was injured when Jabril Trawick collided with him after a foul. He returned for about two minutes in the first half but was sidelined thereafter. Trawick played just nine minutes in the first half and one minute of the second, and he was out of action thereafter, forcing Georgetown coach to initiate a rotation among senior Aaron Bowen and freshmen paul White, Isaac Copeland, and Tre Campbell.
Marquette's 75 percent shooting to open the game was remarkable, but five early turnovers prevented the score from getting out of hand. Instead, it was Georgetown that controlled the pace of the game, thanks to an 8-0 run that gave GU a six point lead midway in the first half. The Warriors closed to one possession on four different occasions in the first half but the Hoyas answered each one of them.
Leading 42-37 entering the final minute of the half, a pair of possessions would be invaluable in the half that followed. With two seconds on the shot clock, a miss from Copeland was scooped up by Josh Smith, who fed Smith-Rivera on the wing for Georgetown's fifth three pointer of the half, 43-37. Following a late foul call on Josh Smith and a pair of Marquette free throws with there seconds to halftime, guard Tre Campbell raced down the court and took a shot with his foot grazing the three point arc. The shot connected at the buzzer and was ruled a two pointer, giving Georgetown a 45-39 lead at the break.
The halftime numbers were strong for both teams. Marquette shot 62 percent from the field, with five e three pointers and just two turnovers in the final 15 minutes of action. Georgetown shot 58 percent, with five threes, and a 14-10 advantage on the boards.
The Hoyas got out early in the second, with a Paul white three 16 seconds into the half to lead by nine, 48-39. But a 2-2-1 zone press, a pair of early turnovers, and the arrival of Duane Wilson energized the Warriors' cause. Wilson had just four points at the half but scored a free throw and back to back threes to tie the score at 48. Georgetown was in the midst of a five minute span where it could not score, relying on expert free throw shooting from Mikael Hopkins to stay above water. When Georgetown's shots returned, it was from the freshmen,. as a Campbell three and two baskets from Copeland keyed a 10-3 run and an eight point lead a the the 11:34 mark.
Marquette answered with a 10-2 run of its own. taking advantage of gaps in the georgetown defense, the warriors went inside on consecutive possessions before reserve guard Sandy Cohen tied the score at 64 with just over nine minutes to play, and neither side would lead by more than three for the remainder of regulation.
Expert free throw shooting carried the Hoyas down the stretch, but Matt Carlino rediscovered the three point line and Marquette pushed out to a 71-69 lead before Aaron Bowen tied the score on a driving basket with 4:14 to play. With each possession, Georgetown was hanging on to a narrow lead.
Down one with 1:22 to play,. Smith was fouled and sank both free throws, 77-76. Wilson was fouled on the next possession but missed the front end of a one and one, whereupon Copeland hit a running jumper to put the Hoyas up 79-76. Wilson answered with a long three, 79-79. One Georgetown's final possession, Smith was fouled down low by Marquette center Luke Fischer and Smith hit both free throws to put Georgetown up 81-79 with 5.9 seconds to play. On the ensuing play, Marquette's Matt Carlino took a cue from Tre Campbell's first half ender and launched a shot with 0.9 remaining that was ruled a two point attempt, 81-81, and confirmed three minutes later via video review. Carlino almost became the game winner again when he intercepted Mikael Hopkins' inbound pass, but his shot sailed wide.
The late foul on Fischer was his fifth and Georgetown hoped to go inside during the overtime. Free throws were Georgetown's only points for much of the period, while Wilson sank his sixth three of the game to give the Warriors a 84-82 lead with 3:18 in the overtime. After a pair of free throws by Smith-Rivera which represented his first points since the first half, a Cohen miss set up Hopkins inside for two more free throws and an 86-84 lead.
Smith picked up his fourth foul with 2:07 remaining, but Wilson missed the back end of the two shot foul. Leading 86-85, the Hoyas were running out of shot clock time when Smith Rivera swung the ball to Campbell in the left corner, with a three pointer that blew open the game, 89-85 with 56 seconds remaining. The Warriors missed its next three attempts as Georgetown put the game away on the line; in fact, Campbell's three was the only field goal in overtime for the Hoyas.
D'Vauntes Smith Rivera had a team high 19 points despite no field goals after halftime. Big, big efforts were turned in by Josh Smith with 18 points and a career high 15 rebounds, including two free throws with 5.9 seconds in regulation. The freshmen came up big, with 17 points from Isaac Copeland and 14 points from Tre Campbell, including the three pointer in overtime. Mikael Hopkins turned in a career game a the line 11 of 12, while Aaron Bowen had 11 off the bench the absence of Peak and Trawick was answered with 45 points off the GU bench in response. The three reserves with 10 or more points is only the fifth time a Georgetown bench has scored 10 or more points from three players in the Big East era.
Matt Carlino and Duane Wilson accounted for 52 points and 13 three point field goals for the Warriors (10-9), who lost their fourth Big East game by four points or less this season.
The Georgetown half of the box score:

            MIN   2FG   3FG   FT  REB  A  PF  PTS
Starters:                                 
Smith-Rivera 43   0-2   5-8   4-5   1   5  2   19
Trawick      10   0-1   0-1   0-0   0   2  1    0
Peak          5   0-0   0-1   0-0   1   1  0    0
Hopkins      22   1-3   0-0  11-12  5   1  2   13
Smith        31   6-8   0-0   6-7  15   2  4   18
Reserves:
Campbell     28   2-3   2-4   4-4   4   1  0   14
Cameron       4   0-0   0-1   0-0   0   0  0    0
Copeland     39   6-10  1-3   2-3   6   4  2   17
White        20   0-3   1-2   0-0   4   3  5    3
Bowen        23   5-7   0-1   1-1   0   2  3   11
Team Rebounds                       0
DNP: Allen, Williams, Mourning, Hayes
TOTALS      200  20-37  9-21 28-32 36  21 19   78

Additional coverage follows below.
January 23 marks the 226th anniversary of the founding of Georgetown University, as per the date in 1789 where Bishop John Carroll took the deed to the property where the campus sits to this day.
As anniversaries go, "Founders Day" was a major event at the University well into the 1960's, where it regularly drew national and world leaders to campus. Below, Vice President Hubert Humphrey addressed the College from the steps of Old North in 1966: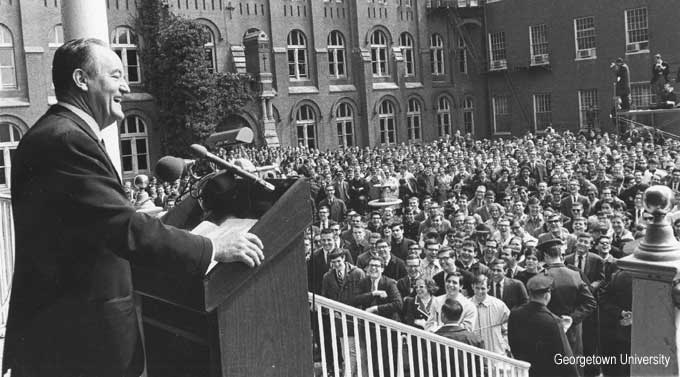 The Founders Day banquets of the past are gone, but next weekend the Alumni Association hosts its annual recognition dinner to honor volunteer leaders from across the University. For more details on how to register, please visit this link.
A lot can change with a little momentum, and with its wins over Butler and Villanova, Georgetown is attracting renewed attention from the national press.
"Georgetown is back on script, which means the Hoyas have returned to a familiar spotófirst place in the Big East," writes Joseph White of the Associated Press.
"Our freshmen continue to settle in," said coach John Thompson III. "They are all getting more comfortable and are playing now, instead of thinking. They are playing better, and thus we are playing better."
The article asks whether Georgetown is a "hard sell" to recruits in the one-and-done world of modern college basketball.
"I canít speak to the world," Thompson said. "I know what is important here, and what has always been and what always will be important here. And regardless what anyone does or doesnít do, this is Georgetown."
"This place is not for everybody, thatís a fact, but if you embrace what everyone else does, embrace this institution on and off the court, thereís no better place."
Isaac Copeland's back to back efforts against Butler and Villanova are attracting the attention of media outlets such as this article from NBC Sports.com, but it's not a surprise within the Georgetown huddle.
ďItís not like everyone in the locker room is going to say, 'Oh, Isaac is pretty good,'" said coach Thompson after the Butler game. "They know that. Thatís something that has happened through weeks and months of workouts and watching and playing with him. The trust has been there."
"But itís the freshmen that not only give Thompson the depth to be able to play an eight-man rotation, but they allow him the kind of lineup versatility that keeps Georgetown from running into too may mismatches," writes NBC' Rob Dauster. "Copeland, when heís playing well, can be used at either forward spot thanks to his length, athleticism and skill on the perimeter, while White can guard the two or the three. If Thompson needs to go big, he can use Copeland or White on the perimeter with Hopkins and Smith up front. If he needs to go small ó like he did against Villanova ó he can play White and Copeland at the forward spot alongside Hopkins, a lineup that proved very effective for Georgetown on Monday.
"This was expected out of [the freshmen] as soon as they got on campus," said senior Jabril Trawick. "I told everyone that they were capable of being big for us, and thatís what theyíre doing right now."
As always, prior stories over this past week or the last 15+ years of coverage can be found at the News Archive pages, including recaps of all prior games over the season. It's a good way to keep up to date if you've visit the site less frequently. The last 10 stories:
To further search this site or the Basketball History pages, enter your query below.
Loading
This is an unofficial site for Georgetown Basketball. If you are interested in playing a sport at Georgetown, contact the Department of Athletics, Georgetown University, Washington, DC 20057. General information for prospective student athletes may be found at this NCAA link.
N.B.: This not-for-profit site is supportive of, but neither directly affiliated with nor under the supervision of Georgetown University or the Big East Conference. See the Fine Print page for more details.
AMDG