Thanks for visiting HoyaSaxa.com. This is the site where you will find more news and information than you'll probably ever need to know about Georgetown University men's basketball. If you're looking for the official athletics site instead, click here.
Latest News
| | |
| --- | --- |
| Beyond The Game: RaMell Ross (C'05) | 11/30/15 |
As part of the site upgrades to the Georgetown Basketball History Project scheduled for later this month, we'll be showcasing a new feature, "Beyond The Game", a look at where former Georgetown players have taken their lives after basketball. This week: RaMell Ross (C'05).
It was just an elective course for RaMell Ross, a double major in the College in english and sociology, wrapping up a basketball career at Georgetown marred by injury. Ross, a one-time honorable mention McDonald's All-America selection, lost two seasons over five years to injuries. Pursuing an minor in fine arts, Ross signed up for a photography course. It changed his life.
"People have tried to dissuade me from pursuing a career in photography," Ross said in a 2009 article. "Some have even laughed when I told them what I obsessively do and think about. But there is something so attractive about the craft, something so invigorating surrounding the process, that I wonder how much of it is a choice."
Following graduation from the College, Ross played basketball in Northern Ireland and worked as a program manager for a DC-based non-profit, Peace Players International, before turning full time to photography in 2007. He enrolled at the Rhode Island School of Design, earning a MFA in photography and honing his craft for a series of exhibitions which has taken his work to New York, London, and Copenhagen, and across the pages of the New York Times, Business Week, and ESPN.
"In 2007 I could not get enough of photography," he said. "There was a veil slowly lifting, revealing the horizon-less landscape beyond photography's ability to freeze moments and portray beauty. The true potential of photography had begun to resonate with me and I finally recognized that my work was limited only by my creativity."
Ross has created both photography and film works focusing on Hale County, Alabama, a hard scrabble portion of rural Alabama known as the "Black Belt". The population has dropped by half over the last century. Ross not only covered the area at a distance, he moved to the area for two years to experience it first hand.
"I like to tell real, contemporary stories of the South through the eyes of an African American man," Ross said in this 2014 article. "Everyone wants to photograph picturesque plantations and abandoned Civil War-era buildings. But there's so much more to uncover."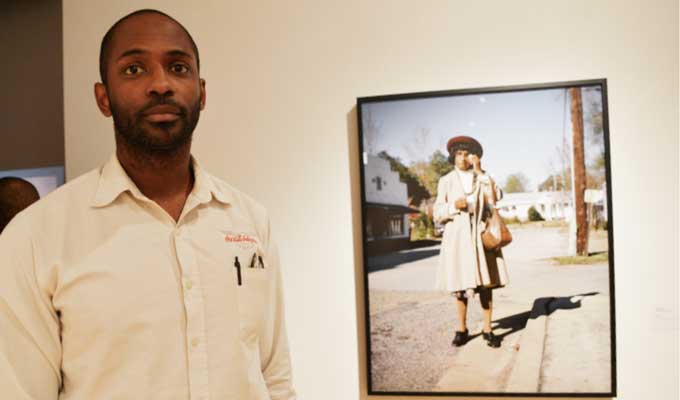 A further excerpt:
"Ross first began documenting Hale County in 2009 when he was hired as a photography instructor for YouthBuild, a nonprofit that encourages teenagers to pursue higher education. Two months later, he accepted a position as a youth manager at Hale Empowerment and Revitalization Organization (HERO), a federally funded philanthropic organization that seeks to act as a catalyst for community development and reduce poverty in the Alabama Black Belt. Answering to the nickname "Uncle RaMell," the artist not only helped his young mentees apply for college and map out their professional goals, he also jumped in to assist with daily tasks such as figuring out a tricky math problem or scheduling a doctor's visit.

"I wouldn't tell my students what to do. I'm not that narcissistic to think I know what's best for them," he notes. "More often than not, they just needed someone to be a friend."
Where Ross once funded projects on Kickstarter, he has since been the recipient of grants from the Rockefeller Foundation and the Sundance Institute. In 2015, he was a guest lecturer at the Tisch School of the Arts at NYU, and is currently an artist in residence at MIT.
"I enter filmmaking as an artist who is wild about poetics and its emotional influence," Ross told Filmmaker Magazine, where he was named as one of its "25 New Faces Of Independent Film". "I played point guard, so I've always looked at things in terms of movement and their relationship to what came before and after."
"The film is an ode to them and the Alabama South, from the centrality of our community, and uses immersive aesthetics in the form of ambling montages, fractured, organic and associative, to pose an alternate perspective: one that is meditative, sensory and accessible. How else can you translate the holiness of this region?"
More on RaMell Ross can be found at his web site.
Game 6: Univ. of Maryland-Eastern Shore (1-4)

Dec. 1, 7:00 pm (EST)
Washington, DC
Verizon Center (20,500)
Tickets? Yes

Media:
TV: Fox Sports 1
U Radio: WJFK-1580
UMES Radio: SFM Sports

About the Hawks:
Location: Princess Anne, MD
Enrollment: 3,922
Conference: MEAC
2014-15 Record: 18-18

Record vs. Georgetown: 0-6

Meet The Coach:
Bobby Collins
(E. Kentucky '91)
2nd season, 19-19
Career: 200-192


Expected Starters
Name
Ht.
Pts.
Ahmad Frost
6-0
2.4
Devin Martin
6-4
14.4
Bakari Copeland
6-6
11.2
Dominique Elliott
6-8
11.6
Joshu'a Warren
6-8
3.0


Team Stats:
Points/Game:
63.0
Points Allowed:
79.2
FG Shooting:
40.6
FG Defense
45.3
3FG Shooting:
29.5
FT Shooting:
71.2
Rebounds/Game
32.0
Assists/Game
9.8
Turnovers/Game
16.6


Last 5 Games (1-4)
11/13: Kansas St. 80, UMES 53
11/15: Missouri 73, UMES 55
11/21: Wofford 73, UMES 63
11/24: Fairfield 113, UMES 74
11/27: UMES 70, St. Francis 57



Game Notes

Georgetown is 53-0 all time versus schools from the Mid-Eastern Athletic Conference.
Maryland-Eastern Shore appeared in the 2015 CIT tournament, its first post season bid since the 1974 NIT.
Maryland-Eastern Shore was picked fourth in the MEAC pre-season poll.
Georgetown is 12-1 all-time in games played on Dec. 1.

Preview

The 2014-15 season was a good one for Maryland Eastern-Shore, with its first winning season in 21 years. The 2015-16 season has been a challenge to date, as the Hawks take a 1-4 record into Tuesday's game at Georgetown. Judging by its recent games, 1-5 seems likely.

The Hawks enter Tuesday's game ranked 325th among 350 NCAA Division I teams in scoring offense, 327th in turnovers, and 330th in turnover margin. Its best player, the returning MEAC rookie of the year, was benched after two games and the team is finding it hard to build offensive momentum. A senior-led effort led the hawks to its first win of the season last weekend versus St. Francis (PA), but they will need much more from its backcourt to stay close to the Hoyas.

More on the Hawks follows at the Pre-Game Report page. A recap follows 30 minutes after the conclusion of the game.

| | |
| --- | --- |
| Georgetown-UMES: The Last Meeting | 11/30/15 |

From HoyaSaxa.com, Dec. 22, 2000:

"A topic of much fan discussion over the past week, Lee Scruggs returned to the Georgetown lineup and the Hoyas moved past Maryland-Eastern Shore 75-51 before 5,256 at MCI Center. Ruben Boumtje Boumtje led a very balanced scoring effort with 18 points, while Nat Burton added 14 off the bench. Scruggs scored six points in 10 minutes of play.

The Hawks (1-5) played well early, and were within six at 26-20 when the Hoyas built a 13 point halftime lead and were not challenged thereafter. The wire service accounts of the game were succinct, noting that "the Hoyas, who have developed a reputation for padding their early season record against lesser competition, improved to 3-0 against teams from the Mid-Eastern Athletic Conference this season."

Maybe so, but at 10-0, Georgetown is off to its best start in 11 years and one of eight undefeated teams in Division I."

The box score from that game:


            MIN   2FG   3FG   FT  REB  A  PF  PTS
Starters:                                 
Hunter       12   0-2   1-2   0-0   0   0  4    3
Braswell     33   3-4   0-1   3-4   4   5  0    9
Riley        20   2-4   0-2   0-0   2   1  3    4
Sweetney     19   0-5   0-0   0-0   5   4  2    0
Boumtje-B.   25   6-9   0-0  6-10   7   0  1   18
Reserves:
Perry        11   2-2   0-0   0-0   2   1  1    4
Ross         13   1-4   0-0   1-4   4   2  2    3
Hillier       6   1-1   0-0   3-3   0   1  0    5
Samnick      18   2-7   0-0   0-0   5   1  1    4
Burton       19   3-5   1-1   5-7   2   0  0   14
Scruggs      10   2-4   0-2   2-2   4   0  0    6
Wilson       14   2-3   0-0   1-2   2   0  0    5
DNP: Freeman, Faulkner, Paulus
Team Rebounds                       0
TOTALS      200  24-50  2-8  21-32 37  15 14   75






| | |
| --- | --- |
| Georgetown 77, Bryant 47 | 11/28/15 |

A 17-5 run to end the first half powered the Georgetown Hoyas to a comfortable 77-47 win over Bryant before a holiday crowd of 7,876 at Verizon Center Saturday.

Bryant's only lad came at 2-0. Sophomore guard L.J. Peak scored nine of the Hoyas' first 13 points but the Hoyas led early but struggled to build much of a lead, opening the game 1 for 8 from three point range. Bryant's zone defense was effective the Bulldogs closed to 23-21 with 7:56 to play, but the Hoyas finished the half on runs of 8-3 and 9-2 run to lead by 14, 40-26, despite shooting just 3 for 11 from three point range.

The second half was much of the same. From a 45-33 score early in the half, Georgetown took a 14-2 run midway in the second half and never looked back. The Hoyas held the visiting Bulldogs to just 28 percent shooting in the second half, where the lead steadily built for the remainder of the game.

The Bulldogs were without its leading scorer, Hunter Ware, who was sidelined with illness. His replacement, guard Bosko Kostur, shot just 2 for 12 on the afternoon.

"Our leading score is out with the flu so he wasn't with us and he's a kid who can actually shoot it pretty well," said Bryant coach Tim O'Shea in post-game remarks. "I had a lot of young guys out there and I thought they competed hard for a good portion of the game, but at the end of the day, you've got to make free throws and you've got to make three-point shots to be competitive in a game like this and we just weren't able to do that today."

Bryant's use of the zone was effective early, but it wasn't a surprise to Georgetown coach John Thompson III.

"I expected [them] to play a lot of zone," he said. "You have to get in there and make decisions, so I think they did a good job. All year, with the exception of the first game, we have moved the ball and helped each other; we just have to keep improving on defense."

Georgetown shot 43 percent from the game but missed 22 of 29 attempts from three point range. Peak led all scorers with 20 points, helping compensate for D'Vauntes Smith-Rivera shooting 1-9 from three point range and 3-12 overall. Marcus Derrickson picked up a double-double, with 12 points and 12 rebounds.

Here's the box score:


            MIN   2FG   3FG   FT  REB  A  PF  PTS
Starters:                                 
Smith-Rivera 35   2-3   1-9   2-2   1   2  1    9
Peak         28   5-5   1-3   7-10  5   0  2   20
Copeland     30   3-5   2-5   1-2   4   5  1   13
Derrickson   27   4-7   0-2   4-4  12   3  4   12
Hayes        19   4-8   0-0   2-2   5   0  1   10
Reserves:
Cameron      16   0-0   3-6   0-0   3   1  1    9
White        10   0-0   0-2   0-0   2   1  0    0
Govan        16   0-2   0-0   0-0   5   1  2    0
Williams      2   0-0   0-1   1-2   0   0  0    1
Johnson      12   0-0   0-1   1-2   2   1  1    1
Mourning      5   1-1   0-0   0-0   1   0  1    2
DNP: Campbell
Team Rebounds                       7
TOTALS      200  19-31 7-29  18-24 47  14 14   77






ICYMI: Check out the highlights from yesterday's victory over Bryant! #H4L #WAG pic.twitter.com/RM9K6eHEsD

— Georgetown Hoops (@GeorgetownHoops) November 29, 2015

---

Related Stories

Stories You Missed

Here's a link to prior coverage from the web site...all the way back to 1997.

Verizon Court Design

An alumnus from the class of 2006 has won a Georgetown contest for designing the Hoyas' home court at Verizon Center. Read more here.

The Class of 2018

There's something special about this year's sophomore class. Read more here.

Thompson-Cam

Follow the construction of the John Thompson Center from a 24-hour on-site camera.