Via a Twitter post this morning, news of a 2019 commitment from Malcolm Wilson, a 6-11, 205 lb. center from Columbia SC:
Wilson was also considering Rice and Clemson. An earlier article on his recruiting appeared in
The State (SC).
Georgetown cannot comment on recruits until letters of intent are signed.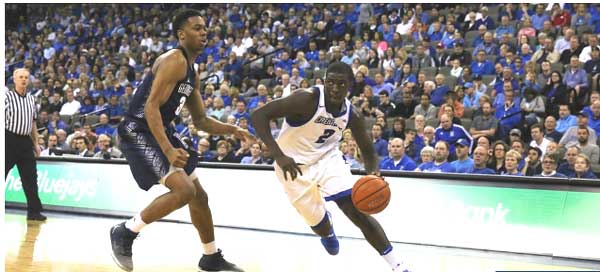 Big East previews are around the corner, so the Omaha World Herald starts with its early preview, picking Georgetown a distant ninth.
"The Hoyas are a darkhorse pick for some. And perhaps they could make significant process. But the presumption here is that second-year coach Patrick Ewing needs more time," it writes.
Villanova, Providence, and Marquette lead the paper's picks for 2018-19.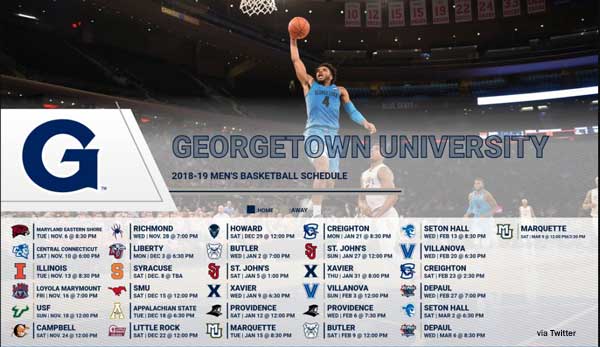 The 2018-19 schedule is now complete, with the announcement of the Big East schedule.
All 18 Big East games will be available on television. Nine games are set for Fox Sports 1, four on the CBS Sports Network, two on Fox Sports regional networks, two on Fox broadcast, and the season finale versus Marquette to be decided between Fox broadcast and FS1 depending on national interest.
Marquette was the early winner as far as weekend games go, with six of its nine home games scheduled for Saturdays at the new Fiserv Forum. By contrast, Georgetown got only four, with just two Saturday games at Capital One Arena after January 12, a concern for ticket sales since Saturday games generally draw better. As a result, most of its major home games will be midweek, such as Jan. 15 vs. Marquette and February 20 vs. Villanova.
Two major road games will be at off-campus sites. As it has been the case since 1982, Georgetown will meet St. John's at Madison Square garden, this year on Sunday, Jan. 27. A week alter, the Hoyas will play at Wells Fargo Center versus Villanova.
Also announced: Big East Media Day, scheduled for Oct. 25 at Madison Square Garden.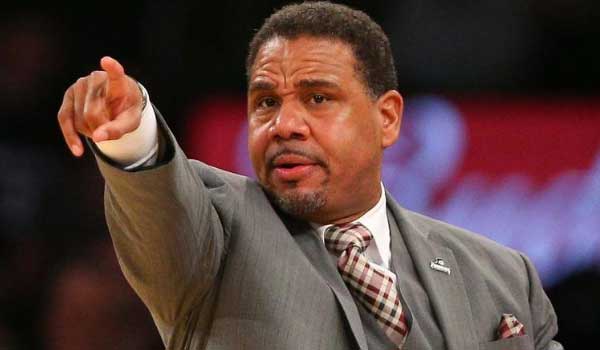 On September 16, 2001, we reported on three college basketball coaches whose lives nearly intersected with the attacks of 9/11/2001, and two involved Georgetown. Now, in 2018, The Athletic tells the first hand accounts of Ed Cooley, John Thompson, and Brandon Bowman in the days before 9/11.
Cooley, then an assistant at Boston College, was recruiting Brandon Bowman from Westchester HS in Los Angeles.Cooley arranged a visit to meet Bowman and his family.
"The plan was set. Cooley bought a ticket on the same early flight out of Logan Airport he had taken countless times: American Airlines, Flight 11. The departure date was September 11, 2001," wrote Seth Davis.
A few days before the flight, Bowman took a visit to Washington, met former coach John Thompson, and made his decision. "He definitely put his influence on me in a positive way," Bowman said. "When I left there, it was a wrap for everyone. I knew where I wanted to go." As such, Cooley canceled his seat on Flight 11.
"I've thought about, could I have done something if I was on the plane? Would I have been intimidated?" he said.
Thompson, as many Hoya fans know, also had a what-if moment on September 11. Thompson was booked on American Airlines Flight 77 to Los Angeles but an interview on the Jim Rome Show was moved back a day. The plane crashed at the Pentagon, less than five miles from his apartment.
In the article, Thompson said he had never heard of the Cooley story when it was first printed in 2001.
"It's got to be an act of God because Cooley is one of my favorites in coaching," Thompson said. "All that connecting makes me feel even better because I like him."
"I'm the luckiest man in the world. I really am," Cooley said. "That's why I always try to stay jovial. Whenever people ask me how I'm doing, my answer is always, 'I'm still here, bro. I guess God don't want me yet.'".
Recommended reading.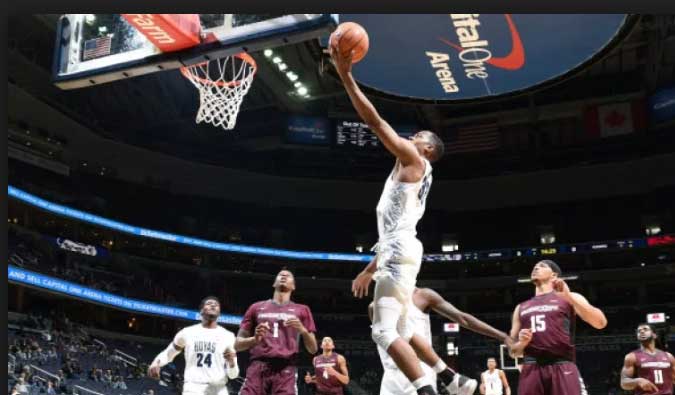 With four additions, the 2018-19 non-conference schedule is now complete.
Two opponents are part of the scheduling for the Jamaica Classic. Though georgetown will not play Central Connecticut State (14-18 in 2017-18) and Campbell (15-16) in the tournament, they are guaranteed two home games on Nov. 10 and Nov. 24, one week prior and one following the tournament. It's the first meeting between georgetown and both schools, who play in the Northeast and Big South conference, respectively.
A pair of more familiar opponents round out the schedule. The Hoyas open the season with Maryland-Eastern Shore (5-25 in 2017-18), whom GU defeated 83-57 in the 2017-18 season and has defeated them in all eight prior meetings. Georgetown ends the non-conference schedule versus Howard (8-23), whom GU defeated 81-67 last season and has defeated them in all nine of its prior meetings. Georgetown has won
96 consecutive games against historically black colleges and universities
and appears ready to add two more to this list.
Dates and times for all games, including the Big East portion of the schedule, follows next week.
So how does the schedule match up against last season's list, which ranked last in the nation in strength of schedule?
The Hoyas traded five in the bottom 50 of the RPI for three, which is still three too many. The average RPI of opponents improved from 260.5 to 224.5, but only two opponents are in the Top 100 and none are playing at Capital One Arena this year. The combined 2017-18 record of Georgetown's home game opponents this season is 109-175 (.383), with just two teams (SMU, 17-16; Richmond, 12-20) finishing in the RPI top 200 last season.
SMU is the only home opponent to have qualified for the NCAA tournament last year, while Syracuse (21-12) is the only road opponent to have done so. And if Georgetown wants to return to the NCAA for the first time in four years, it needs a lot more than this non-conference slate to do it.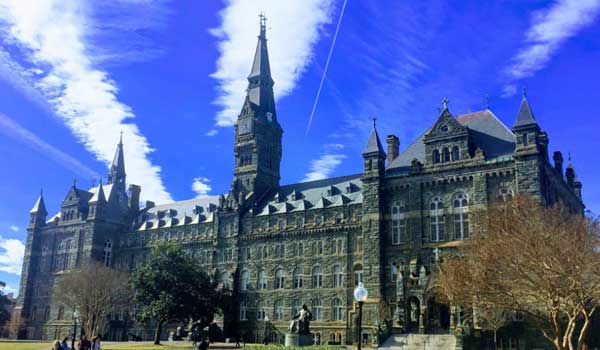 Announced Monday: a #22 ranking for Georgetown University in the annual US News guide to the top colleges nationwide, down from #20 in 2017.
Here are the 2018 rankings.
| | | |
| --- | --- | --- |
| 1. Princeton | 8. Pennsylvania | 16. Rice |
| 2. Harvard | 10. Johns Hopkins | 18. Notre Dame |
| 3. Columbia | 10. Northwestern | 19. UCLA |
| 3. MIT | 12. Cal Tech | 20. Washington (MO) |
| 3. Chicago | 12. Dartmouth | 21. Emory |
| 3. Yale | 14. Brown | 22. Georgetown |
| 7. Stanford | 14. Vanderbilt | 22. USC |
| 8. Duke | 16. Cornell | 25. Carnegie Mellon |
Also included at #25: Virginia.
Among Big East schools, Villanova has moved into the Top 50 at #49, with Marquette (#89) as the only other Big East universities ranked nationally in the top 100. Other nationally classified schools include DePaul (#119), Seton Hall (#119), and St. John's (#152). Providence, Creighton, Xavier, and Butler are all ranked in regional categories.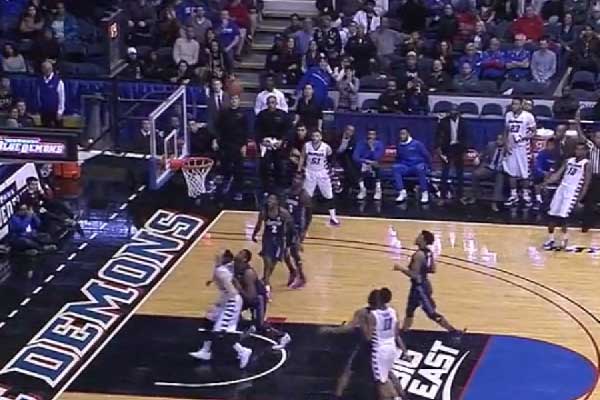 Some more updates to the non-conference opponent list, as Georgetown is now the only Big East school which has not released its non-conference schedule.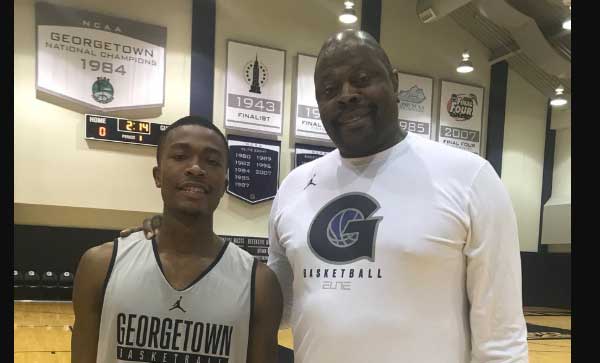 News from the basketball office confirms that freshman Jaden Robinson will join the 2018-19 roster as a recruited walk-on.
Robinson played at Mt. St. Joseph's in Baltimore in 2017 but was not recruited, leading him to a fifth year at Suffield (CT) Academy. "Jaden Robinson '18 (unsigned) is leading our team in PTS, FT, & OREB," wrote a Twitter message from the school last season. "He is playing well, scoring from all levels, and accepting critique. 4.2 GPA & 1300 SAT."
Robinson joins junior walk-on George Muresan as non-scholarship players for 2018-19.
Georgetown's walk-ons may not all have enjoyed much time in game situations, but the experience has led them towards some interesting careers beyond the sport. Here's a look at Georgetown walk-ons over the past 20 years.
Gharun Hester (1998-01) A two sport athlete in football and basketball, Hester scored 25 points over three years, including 10 in a triple overtime win over Virginia. He is currently a senior development manager with Microsoft.
David Paulus (1999-01) A two sport athlete in football and basketball, Paulus scored six points in five games. After Georgetown, he earned an MBA at Southern California and is an asset manager in the Los Angeles area.
Glennard Johnson (2000-02) Johnson was a two sport athlete who walked on to the basketball team in the 2000-01 season, "OJ" Johnson saw action in 11 games, scoring four points. Following Georgetown, Johnson went into teaching and is the current head basketball coach at St. Alban's (DC).
Ryan Beal (2002-06) A four year walk on with 11 points over 20 games, Beal received his business degree from Georgetown in 2006 and played two seasons with the Alexandria Avengers, a semi-pro team. He later received an MBA from the University of Wisconsin and currently works in technology-based marketing.
Amadou Kilkenny-Diaw (2002-06) A two-time Big East Academic All-Star who scored 68 points in 66 games, Kilkenny-Diaw graduated in 2006 with a major in English and a minor in computer science. Following graduation, Kilkenny-Diaw earned a law degree at the University of Virginia and now serves as a patent attorney in the Washington DC area.
Ken Izzo (2003-07): Izzo saw action in 27 games over his career at Georgetown, which spanned the last season of the Craig Esherick era and the first three seasons under John Thompson III. Despite meager scoring statistics, Izzo played professional basketball in Northern Ireland and Hungary following graduation and is now a data scientist in the San Francisco area.
Jonathan Wallace (2004-05): Georgetown's greatest walk-on earned a scholarship his sophomore season, but set a school record with 209 points over 32 games as a freshman. After a long career in Europe, Wallace is a member of the Georgetown basketball staff.
Bryon Jansen (2007-09): A 11 point, 10 rebound average at Seattle Christian failed to bring 6-6 Bryon Jansen any scholarship offers, leading him to consider intramurals at Georgetown rather than a Division III school in Oregon. Two years on the Georgetown practice team followed, and he was called into walk-on status as a junior, appearing in 15 games over two seasons.Jansen earned an MBA from Stanford and is currently the chief operating officer at Intrsect US, a technical training firm.
Ryan Dougherty (2009-11): An honorable mention All-Met in 2007 and the IAC player of the year, Dougherty played sparingly at Rochester due to injury and decided to return to Washington after his sophomore season, playing two seasons as a walk on. Despite scoring just two points over 14 games, he was named a team captain in 2010-11. After basketball, Dougherty earned a master's degree at Georgetown and is currently studying law at Boston College.
Stephen Stepka (2009-10): The only recent walk-on to transfer out of Georgetown, Stepka scored just two points in seven games before completing his studies at James Madison. Today, he is a consultant in the Washington, DC area.
John Caprio (2010-13): Pursued by various Ivy League and MAAC teams, Caprio chose to study at Georgetown, and walked on to the team in the fall of 2010, scoring 10 points over 29 games. In 2013-14 he earned a scholarship and played in 23 games. He is currently director of operations at an Atlanta industrial firm.
David Allen (2012-15): Averaging 23 points a game as a high school senior, Allen managed only eight points in 24 games. Allen was drafted in the sixth round by an NBA Development League club in 2016 but did not see game action. Today, he is in business development at a Dallas-based energy company.
Riyan Williams (2009-10): The son of All-American Reggie Williams, Riyan scored eight points in 32 games before transferring for his fifth year graduate exemption, leading Division II Goldey-Beacom College with a 14.3 point average. Williams currently works at Howard University.
Ramond Hines (2015-18): A former team manager, Hines scored three points over 12 games for the Hoyas. Hines is currently an entrepreneur in the Washington area.
George Muresan (2016-present): Just two points in 11 games is Muresan's scoring total to date, with more expected this season for the 6-9 junior.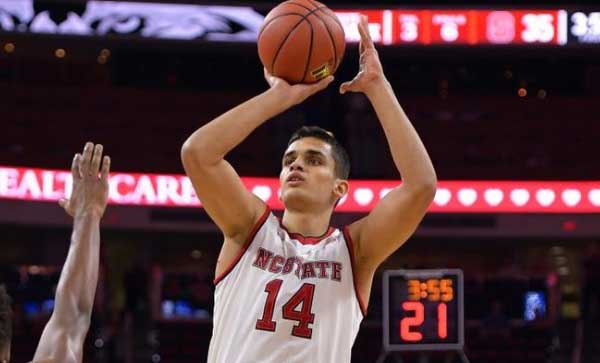 It's been a topic in ACC basketball circles for nearly six months: why did center Omer Yurtseven leave NC State for Georgetown? An article in the Georgetown Voice appears to cite a reason, and it's not about basketball.
"Yurtseven's decision to relocate to Washington comes during a nationwide rise in Islamophobia and anti-Muslim hate crimes," said the Voice. "According to Yurtseven, there were 'a few events' that caused him to feel uncomfortable in Raleigh. He declined to elaborate with more specific details, but the Raleigh area has recently seen several high-profile acts of Islamophobia, some violent."
At Georgetown, "I was able to tell Omer first hand about the diversity of Georgetown and D.C. in general," said Georgetown head coach Patrick Ewing in an email to the Voice. "The university has many resources available to all ethnicities and religions to make students feel at home. I want all my players to feel comfortable and be happy on campus. I am very pleased that Omer is adjusting so well."
"Knowing that a place respects my religion is definitely important," said Yurtseven.
The Voice article was cited Monday at
Pack Insider
, which wrote "If you were following during [March], then you know we were a bit confused. Sources were telling us that Yurtseven had no beef with the NC State staff, so to us it seemed as if he may have seen the writing on the wall. [Head coach Kevin] Keatts wanted to implement his style of ball 100% this season and that style doesn't really compliment a slower, more methodical type post-player like Yurtseven."
"The takeaway here is that maybe we didn't get the full story the first time around. Maybe it isn't all about the NC State basketball program. Maybe it was a culmination of things that led Yurtseven to decide a change of scenery would feel more comfortable to him, part of which was likely playing for Ewing," they said.