Thanks for visiting HoyaSaxa.com. This is the site where you will find more news and information than you'll probably ever need to know about Georgetown University men's basketball. If you're looking for the official athletics site instead, click here.
For the second straight year, a local school appears to be withdrawing from the Childrens Charities BB&T Classic, and it's not Georgetown.
In a letter to George Washington season ticket holders posted on the www.GWHoops.com web site, the school appears to have backed out of the Dec. 12, 2015 event.
"After 20 years of participation in the annual BB&T Classic, scheduling conflicts preclude us from competing in this year's event after the date of the games was moved from the traditional weekend," it reads. "We've been honored to have been part of such a memorable event that benefitted an outstanding cause in the Children's Charities Foundation."
The tournament added Georgetown in 2014 after Maryland backed out of the tournament, citing scheduling difficulties with its arrival to the Big Ten Conference. The tournament also parted ways with co-founder and event promoter John Feinstein prior to the 2014 event as well.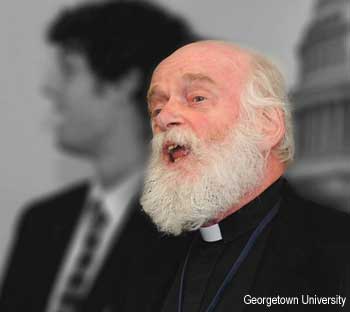 Off the sports pages, we pause to note the passing of Rev. James Walsh, S.J. a professor for more than 40 years at Georgetown and a devoted member of the Georgetown Chimes.
Rev. Walsh grew up in Wilkes-Barre, PA and joined the Georgetown faculty in the early 1970's while completing his Ph.D. at Harvard. An associate professor of theology, Walsh also served as the public address announcer for women's basketball games at McDonough Gymnasium.
In 1982, Walsh was selected to join the Georgetown Chimes, and further elevated the visibility of Georgetown's original a capella singing group. A member of the Georgetown University Alumni Association Board of Governors, he received the University's highest honor for a non-alumnus, the Patrick Healy Award, in 1999.
"He was a truly wonderful, scholarly, multilingual, urbane, and witty man," said George Peacock (C'84), president of the Alumni Association and fellow Chime. "He was a great friend to have."
Services are pending.
Just one week remaining until the July 9 debut of the Kenner League, a D.C. college basketball tradition since 1981.
Rosters and schedules should be appearing online early next week for the games, which run from July 9 though August 9 at McDonough Gymnasium.
A summer feature from The HOYA looks back at the May 30 wedding of former men's basketball guard Tyler Crawford (C'08) and former women's basketball guard Meredith Cox (C'10).
"She walked in the gym at McDonough during her freshman year, and she had yellow shorts and a real bubbly personality," Tyler said. "So I went to one of her teammates, got her phone number and jokingly texted her because she didn't have my number, and we took off that way." The two have been a couple ever since.
"Overall, the men's and women's basketball team, we were both very supportive of each other," Meredith said. "When we were able to go to their games that was a lot of fun, and then on the flip side of that, all of them came to a lot of our games. So there really was a friendship between a lot of the players, and that helped Tyler and I in our relationship."
The groomsmen included Tyler's classmates Jeff Green, Jonathan Wallace, and Patrick Ewing Jr.
No Georgetown players were selected in the 2015 NBA Draft. Two Big East players, seniors Darrun Hilliard (Villanova) and Sir Dominic Pointer (St. John's) were selected in the second round.
The draft is increasingly an underclassmen pool, but over a third of early entries were not drafted. The NCAA is proposing a change where entrants could return to college following the NBA draft combine, provided they have not signed with an agent.
Of course, there was no doubt who would be selected at the opening of the draft 30 years ago. A series of YouTube clips at CBS Sports.com takes a look back at the draft that featured Patrick Ewing (C'85) and a look back at his rookie season in the NBA.
Former Georgetown coach John Thompson received a unique honor Wednesday when his peers at the National Association of Basketball Coaches Foundation presented him with its Court of Honor Award, the first time a head coach had received the award since it was founded in 2009.
"Since his arrival as a coach in college basketball in 1972, those in our profession have looked up to John Thompson, both literally and figuratively," said UNC coach Roy Williams, president of the NABC Foundation. "Not only has he had an outstanding career as the coach of a national championship team and a United States Olympic team, but he has been an outspoken champion for student-athlete rights."
Previous awardees include Jerry Colangelo, former senator Senator Bill Bradley, Nike executive Phil Knight, and sportscasters Jim Nantz and Dick Vitale.
Dates for two opponents not included in the four team 2K Classic have been announced.
Georgetown will meet Radford (22-12 in 2014-15) on Nov. 14 in what will likely be the season opener. Previous reports had the Hoyas playing Siena, which has been scheduled to play Virginia Commonwealth instead.
Two weeks later, the Hoyas will host Bryant (16-15) on Saturday, November 28 during the Thanksgiving holiday.
As always, prior stories over this past week or the last 15+ years of coverage can be found at the News Archive pages, including recaps of all prior games over the season. It's a good way to keep up to date if you've visit the site less frequently. The last 10 stories:
To further search this site or the Basketball History pages, enter your query below.
Loading
This is an unofficial site for Georgetown Basketball. If you are interested in playing a sport at Georgetown, contact the Department of Athletics, Georgetown University, Washington, DC 20057. General information for prospective student athletes may be found at this NCAA link.
N.B.: This not-for-profit site is supportive of, but neither directly affiliated with nor under the supervision of Georgetown University or the Big East Conference. See the Fine Print page for more details.
AMDG