Thanks for visiting HoyaSaxa.com. This is the site where you will find more news and information than you'll probably ever need to know about Georgetown University men's basketball. If you're looking for the official athletics site instead, click here.
Georgetown is one of eight schools committted for the 2016 Maui Invitational, it was announced Monday.
The Hoyas will join teams from Connecticut, North Carolina, Oklahoma State, Oregon, Tennessee, Wisconsin, and host school Chaminade.
This will be the third appearance for the Hoyas in the tournament, to be held Nov. 21-23, 2016 in Lahaina, HI. Previous appearances were in the 1999-00 and 2011-12 seasons.
Congratulations to former coach John Thompson, who will have his #50 retired by Providence College in ceremonies later this season.
Coach Thompson is not one to promote his collegiate accomplishments and had declined similar offers from PC in the past, but will be justly honored on Feb. 14 along with the late Jim Hadnot ('62) and all-Big East women's basketball standout Andrea Mangum ('90).
Writes the Providence College news release: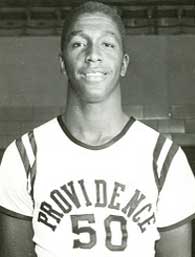 "Thompson, a native of Washington, D.C., was one of the top players ever at Providence College. He was inducted into the Naismith Memorial Basketball Hall of Fame in 1999. During his career at Providence, he scored 1,520 points (19.2 ppg) and grabbed 1,061 rebounds (13.4 rpg) in three seasons of action (freshmen were not eligible to compete on the varsity team). Thompson is one of only six players in the history of Friar basketball to score more than 1,000 points and register more than 1,000 rebounds. He helped lead the Friars to the 1963 NIT title after he averaged 18.9 points and 14.0 rebounds. He was named to the 1963 NIT All-Tournament Team and earned All-New England honors.

"As a senior, Thompson earned First Team All-America accolades after he averaged 26.2 points and 14.5 rebounds. In addition to All-America honors, he also earned New England Player of the Year, All-East, ECAC All-Star, and East-West All-Star accolades. At the end of his senior year, he held Friar records for points, scoring average and field goal percentage. Currently, Thompson ranks third all-time in rebounding (13.4 rpg, 1,061 rebounds), ninth in field goal percentage (.531, 584-1,100) and 14th in scoring (1,520 points). He was selected in the third round of the 1964 NBA Draft by the Boston Celtics. He played two seasons in the NBA, helping the Celtics capture two NBA titles (1965 and 1966)."
John Thompson was recruited to Providence in 1960 when his hometown school chose not to do so. Even though he attended a desegregated Catholic high school named for Georgetown's founder, the College did not enroll a black student until 1963. The basketball coach at the time, Tom Nolan, remarked in a 1978 interview that "It would have been difficult for him here. Maybe I was just a little too idealistic, but I didn't want him to get hurt." Georgetown would not add a black player to the basketball roster until Bernard White in 1966-67, one of the last schools nationwide to do so.
Josh Smith scored 22 points and collected 11 rebounds as Georgetown cruised past Robert Morris, 80-66, in its final tune up before the Battle 4 Atlantis next week.
The first half followed a familiar pattern for the Hoyas in the non-conference: a crisp early start (Georgetown led 12-4), followed by a run of missed outside shots (0-4 from three) that allows the opponent to claw its way back in. The Colonials closed to 15-14 at the 11:27 mark on a three pointer by forward Rodney Pryor, but the Hoyas turned up the heat inside, with layups from Smith, L.J. Peak, Aaron Bowen, and Mikael Hopkins to take a 27-18 lead at the 4:40 mark.
Georgetown carried a 36-24 lead at intermission, thanks to 52 percent shooting and a nearly unbreakable run from inside, where it scored on nine of 13 attempts. Robert Morris, with eight newcomers on its roster, struggled from the field with 25 percent shooting and a -15 on rebounds, allowing 25 to the hoyas wile collecting just 10 of its own.
The Colonials got off to a rough start to open the half and never recovered, making just one field goal in the first eight minutes as the Hoyas' inside game was too strong and too physical to overcome. Led by Smith inside, the hoyas pushed the lead to 20 at the 15 minute mark and 27 midway in the half at 63-36. Georgetown's three point shooting remains a point of concern, missing eight of 10 in the half and finishing 6-22 overall but its inside game was never questioned and only a run of bench substitutions allowed RMU a chance to tighten the final score.
"I think that their size and strength wore on us over the course of the game," said Robert Morris coach Andrew Toole. "From a defensive standpoint, we didn't do a terrible job. I thought offensively we settled for some plays and jump shots that we didn't need so we dug ourselves a decent hole to close the half and then didn't start the second half the way we needed to come back."
Senior center Josh Smith led all scorers and played 26 minutes, the most this season for the 300+ pound center.
"Josh playing 26 minutes is not a surprise," said Georgetown coach John Thompson III. "I did put him back in just because we wanted to ride him a little bit, for lack of a better way to put it. He was going in there and putting pressure on them. There were certain things that I wanted our guys to see where he was open that we didn't execute in the first half. We wanted to put him back in so we could get a feel about how this was supposed to be run. Putting him back in at the end has as much to do with everyone getting a comfort level with the sets that we were running. But he can play. As long as he lets me know when he is tired, whether that is after one minute or after 10 minutes, we can get him a blow and get him back in."
Smith is already looking forward to next week's games in the Bahamas.
"Florida runs a lot of zones so with this game it helped us out a lot defensively and offensively they run a lot of sets that Texas A&M-Corpus Christi ran, so it's just kind of getting a little familiarity with it," he said. The Hoyas open the Battle 4 Atlantis tournament Wednesday versus Florida (2-1).

            MIN   2FG   3FG   FT  REB  A  PF  PTS
Starters:                                 
Smith-Rivera 30   2-2   2-7   2-2   6   7  1   12
Peak         23   2-4   1-2   5-6   2   3  2   12
Trawick      21   0-0   2-3   0-0   2   1  3    6
Hopkins      20   2-5   0-0   2-2  10   0  2    6
Smith        26   9-12  0-0   4-7  11   0  3   22
Reserves:
Campbell     17   1-2   0-3   1-2   2   2  0    3
Cameron      12   0-0   1-5   2-2   2   0  0    5
Copeland     15   1-3   0-0   2-2   1   1  2    4
Allen         3   0-0   0-0   0-0   0   0  0    0
White        15   2-3   0-1   0-0   5   1  5    4
Williams      1   0-0   0-0   0-0   0   0  1    0
Bowen        13   1-1   0-1   0-2   3   1  1    2
Mourning      1   0-1   0-0   0-0   0   0  0    0
Hayes         3   2-3   0-0   0-2   1   1  1    4
Team Rebounds                       2
TOTALS      200  22-35  6-22 18-27 47  17 21   80

If this was the 1980's, construction of the Intercollegiate Athletics Center might have seen a 20 foot high wall to build the project without the presence of cameras. Such is not the case in 2014, where the Georgetown athletic department has posted a 24 hour construction camera for fans to watch the progress of the effort.
If you're expecting a lot of dirt flying in the nine weeks since the groundbreaking, the camera would suggest otherwise. Athletic Director Lee Reed commented on this at a recent e-mail newsletter this week which stated, in part, "A late change in the storm water management regulations necessitated a modification to our original design. While we have lost time because of this, I remain confident that we will meet our goal of having the building completed and occupied in time for the 2016-17 academic year."
As always, prior stories over this past week or the last 15+ years of coverage can be found at the News Archive pages, including recaps of all prior games over the season. It's a good way to keep up to date if you've visit the site less frequently. The last 10 stories:
To further search this site or the Basketball History pages, enter your query below.
Loading
This is an unofficial site for Georgetown Basketball. If you are interested in playing a sport at Georgetown, contact the Department of Athletics, Georgetown University, Washington, DC 20057. General information for prospective student athletes may be found at this NCAA link.
N.B.: This not-for-profit site is supportive of, but neither directly affiliated with nor under the supervision of Georgetown University or the Big East Conference. See the Fine Print page for more details.
AMDG