Thanks for visiting HoyaSaxa.com. This is the site where you will find more news and information than you'll probably ever need to know about Georgetown University men's basketball. If you're looking for the official athletics site instead, click here.
With four different former Georgetown players playing in the NBA summer leagues, GUHoyas.com takes at look at the efforts of each to pursue an NBA career.
A message from the Hoya Hoop Club: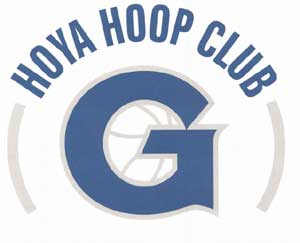 Hoya Fans,

As we head into the heart of the summer, Kenner League action is heating up! The Hoya Hoop Club invites all Hoya fans to a Kenner League Picnic on Saturday, July 26, 2014 from 1:00 to 3:30 p.m. outside McDonough Arena. It will be an exciting day of Kenner League action, with The Tombs (featuring freshmen Isaac Copeland and LJ Peak) scheduled to play at 2:15, and Clyde's (featuring freshmen Tre Campbell and Paul White) scheduled to play at 3:30. And if that's not enough, junior D'Vauntes Smith-Rivera and freshman Trey Mourning are scheduled to play at 4:45 p.m. for A. Wash Associates. Don't miss out on your opportunity to get a sneak peak at your 2014-15 Hoyas while socializing on campus with other Hoya fans.

Red Hot & Blue will be catering and the menu will feature hot dogs, hamburgers, cole slaw, baked beans, potato salad, iced tea and lemonade. The cost for Hoya Hoop Club members will be a mere $10 for adults and $7 for children under 10. Former players are invited to attend for free, compliments of the Hoya Hoop Club Board. To make sure we have the right amount of food, we request that all who plan to attend please pre-register by clicking here.

And if all of this is not enough, we will raffle off two premier tickets to this year's home game against Villanova for one lucky person in attendance.

We look forward to seeing many of you on Saturday.

Let's Go Hoyas!

Mark Guerrera C'91
President, Hoya Hoop Club
A move to offer greater autonomy to five NCAA Division I conferences has raised this question: how will this affect the competitive balance in men's basketball?
"Due to competitive concerns, we believe that team scholarship limits should remain permanently in the shared governance category," wrote the Big East in this link from USA Today.
"If all of the sudden scholarships in men's basketball change and instead of 13, it's 20, you can't predict with complete certainty, but I think it stands to reason that the schools that are heavily funded would have a greater opportunity to recruit and keep those players," said Big East commissioner Val Ackerman. "That may well make it more difficult for every school to feel like it's got a shot at a national championship in the sport. I think that would be bad for college basketball."
Despite a wealth of issues (no pun intended) where the ACC, Big 12, Big Ten, Pac-12 and SEC seek to diverge from the Division I operating structure, expanding scholarship limits does not appear to be one of them.
"I don't think any of us thought that the number of scholarships should be in an autonomy area, with one exception," said Big Ten commissioner Jim Delany. "The exception would be if either by a court decree or because we went to some form of freshmen ineligibility, there would have to be flexibility in the number of scholarships in any sport affected by that. Short of that, I tend to agree. I think the numbers are where they ought to be. That's not why we went down this road. That has a direct bearing on competitive balance."
A vote on the reorganization plan takes place on August 7.
Check the HoyaTalk board for recaps and links to coverage from the third weekend of Kenner League action.
Last month's admission by head coach John Thompson III that he created a pre-game speech for the TV cameras during a Big East game caused its share of attention in press circles. He recently talked with the Sporting News on the larger issue of media access.
"It's becoming a necessary evil — necessary because of the world we live in. The networks want to give the viewer more, more, more, more," Thompson said.
"But to create the best learning environment for our kids, I think sometimes we don't need to be miked. We don't need to be putting on a show 24-7, 365 for the audience. We need to be helping this group that's in front of us grow up, get better, and become young men."
Former NBA coach Stu Jackson was named the director of men's basketball operations for the Big East Conference, reports the Milwaukee Journal-Sentinel.
Jackson, a former assistant at Providence, was an analyst at Fox Sports 1 before making the move to the conference office.
Check the HoyaTalk board for recaps and links to coverage from the second weekend of Kenner League action.
Summer leagues are also in the news for the NBA, where Otto Porter scored 25 points for the Wizards this summer and is expected to see more playing in time in 2014-15.
Former Georgetown guard Austin Freeman is seeing action in the Chicago Bulls' summer league team in Las Vegas, scoring 14 points in a game this weekend.
Following a poor second half finish, league insiders tell the Sporting News that the Indiana Pacers may put center Roy Hibbert (C'08) on the trading block.
Hibbert has two years on his contract at Indiana for $15 million per season.
"They're open to making major changes, if they're there," said one general manager. "I think they'd be disappointed to see that same core group back intact, so it is a matter of, how drastic can the changes they make be? Moving Hibbert for multiple pieces would be a pretty drastic change, but they're asking."
The first weekend of Kenner League play concluded Sunday, with 14 of the 15 teammates for Georgetown next season taking part (senior Josh Smith is out of town this summer and not on a Kenner lineup). A selection of recaps follow below:
Georgetown and George Washington have not faced each other on the basketball court in 33 years. According to CBS Sports, the teams won't play in 2014-15 but will share the stage at a rare Sunday doubleheader, according to reports.
"GW will face Charlotte and Georgetown will face Towson in a doubleheader at the Verizon Center on 12/7/14," wrote CBS Sports' Jon Rothstein at his Twitter feed. Nether school has commented publicly on the report.
The date is significant, in that the first Sunday in December has traditionally been reserved for the BB&T Classic, which has served since 1995 as an annual event for Maryland and George Washington, as well as an annual rebuke of Georgetown by tournament promoter John Feinstein, who took care to remind viewers that Georgetown didn't care about kids, a reference to the Children's Charities Foundation, the fundraising group for the event. Georgetown has never played in the tournament and occasional discussion of its entrance were reportedly opposed by Maryland loyalists on the Children's Charities board.
Attendance has fallen over the last ten years of the event, with the BB&T moving from a two day, four team tournament format to a one day triple header in 2005 and now a one day doubleheader selling less than half the seats in the arena. With diminishing interest among Maryland fans, the move to the Big Ten Conference gave coach Mark Turgeon the cover to end its participation in the event, rendering it defunct.
Georgetown is 4-0 all time versus Towson, the last in 2012-13. The Tigers were 25-11 in 2013-14 behind former Georgetown forward Jerrelle Benimon, now pursuing a free agent opportunity in the NBA summer camps.
Georgetown and George Washington have not met since Dec. 16, 1981, the 93rd game between the schools dating to 1907. Among Division I schools with at least 20 games versus the Hoyas, it is the fourth longest drought among former opponents, trailing St. Joseph's (33 games, last on January 8, 1980), Holy Cross (20 games, last on February 23, 1980), and LaSalle (24 games, last on December 30, 1980.)
A rite of summer begins this weekend with the beginning of Kenner league summer basketball at McDonough Gymnasium.
Officially known by its sponsor as the "Nike Pro City Jabbo Kenner League", it's simply referred to as the Kenner League, entering its 34th year at Georgetown. Rosters and schedules are posted to the left, although both are subject to change at any time.
This summer marks the 20th anniversary of one of its most memorable moments, when Allen Iverson made his debut at Georgetown, scoring 99 points over three nights in August, 1994. Read more about it in this link to the Georgetown Basketball History Project.
Six weeks after he made a verbal commitment to attend Georgetown, rising senior center Noah Dickerson announced via Twitter that he is reopening his recruitment.
No reason was cited for the decision.
"It simply seems the Hoyas have too many talented forwards in the same class," wrote Scott Phillips at NBC Sports.com.
Dickerson, a 6-8, 255 lb. forward/center from Atlanta via Montverde (FL) Academy, committed to Georgetown in May, also via Twitter. Dickerson was rated from #56 nationally as a junior from Rivals.com.
Georgetown officials cannot commit on any recruit pending a letter of intent, which is not available to be signed until November 2014.
As always, prior stories over this past week or the last 15+ years of coverage can be found at the News Archive pages, including recaps of all prior games over the season. It's a good way to keep up to date if you've visit the site less frequently. The last 10 stories:
To further search this site or the Basketball History pages, enter your query below.
Loading
This is an unofficial site for Georgetown Basketball. If you are interested in playing a sport at Georgetown, contact the Department of Athletics, Georgetown University, Washington, DC 20057. General information for prospective student athletes may be found at this NCAA link.
N.B.: This not-for-profit site is supportive of, but neither directly affiliated with nor under the supervision of Georgetown University or the Big East Conference. See the Fine Print page for more details.
AMDG