Thanks for visiting HoyaSaxa.com. This is the site where you will find more news and information than you'll probably ever need to know about Georgetown University men's basketball. If you're looking for the official athletics site instead, click here.
Latest News
| | |
| --- | --- |
| Pre-Season Nears | 10/12/15 |
While the name "Midnight Madness" is largely a thing of the past, Division I teams will begin practice this week and Georgetown will host a student event Friday night for the men's and women's teams.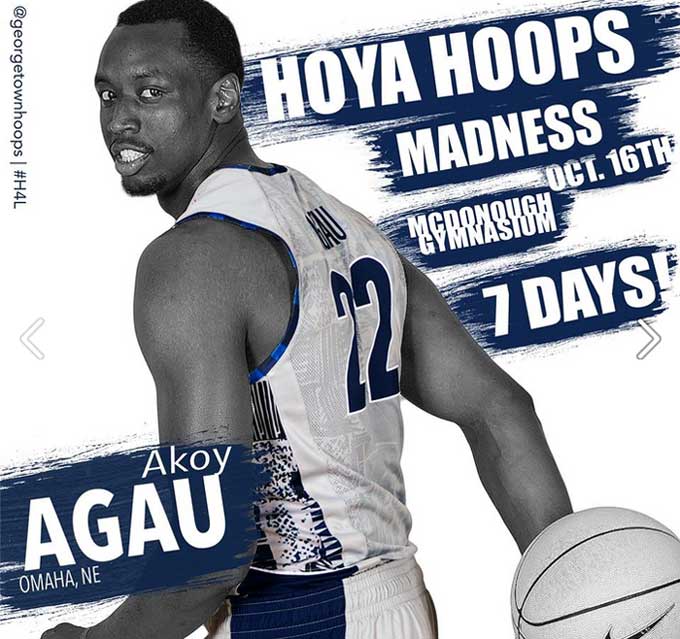 | | |
| --- | --- |
| As Basketball Rises, Tennis Relocates | 10/11/15 |
As fans look forward to the opening of the John Thompson Center next year, it's easy to forget what was once on that site. For members for the Georgetown intercollegiate and club tennis teams, their program has seen a sharp change as a result.
An extended article in the Georgetown Voice looks at the tennis team's relocation in the wake of the JTC construction and where it will go from here.
"The [varsity] team only plays one match on campus, at Yates Field House, during their year-long season," writes the Voice. "Last season, the men's team played two matches near campus, one at Visitation and one at Georgetown Prep. The women's team played two matches at the Arlington, Va. YMCA and one match at Bell Haven Country Club in Alexandria, Va. Otherwise, the team spends the rest of their season playing away matches, away from fans and familiar territory."
The tennis team was founded in 1907, the same year as men's basketball on the Hilltop. For decades, the teams practiced and played on a series of outdoor courts where Village A is located today--the courts relocated to the McDonough parking lot in 1977 following the beginning of construction for that residential complex.
It's also an issue at the recreational level, said Elizabeth Kelly (N'15).
"What used to be the biggest club sport on campus [300 students] has now dwindled to [40]. And no one is ever going to see those matches [off-campus]," she said.
"I think what it does is it takes the Georgetown element out of sports," said former captain Casey Distaso (N'14, M'18). "These players practicing at Visitation and playing on the road, they're sort of separated from the university and the university is separated from them, and I think that's what is so important about sports. Especially in college, here at Georgetown, when you're not making money, it's important that the university and the teams are always together."
Recommended reading.
| | |
| --- | --- |
| Hoop Club Open Practice | 10/8/15 |
The annual men's basketball open practice will be sponsored by the Hoya Hoop Club on Saturday, October 24.
The event is open only to Hoya Hoop Club members and their families. For information on joining the Hoop Club, visit this link.
| | |
| --- | --- |
| Georgetown Announces $50M Gift | 10/6/15 7:00 pm EDT |
With 3,671 days since Georgetown halted construction of football's future, the MSF Clock has stopped.
Georgetown University has announced a transformative $50 million gift from Georgetown parents Peter and Susan Cooper to fund a new on-campus stadium and underwrite a sports leadership program on the Hilltop. Parents of five Georgetown alumni, including three brothers who played football for the Hoyas: Ryan (B'02), Matthew (B'07), and Kris (B'10), the new stadium will be named Cooper Field and could open in the 2018 season.
More coverage follows at the football pages.
| | |
| --- | --- |
| Schedule Previews | 9/29/15/h3> |
From Fansided, a look a the non-conference and conference schedules for the 2015-16 Hoyas, and how writer Paolo Santamaria sees the Hoyas faring in each.
"Though it remains to be seen just how well the team will mesh at the start of the season, I'm confident Georgetown will have all cylinders firing when the Big East season rolls around," he said.
| | |
| --- | --- |
| Mutombo Joins Basketball Hall Of Fame | 9/14/15 |
Welcomed by former coach John Thompson and supported by many former players and alumni in attendance, Dikembe Mutombo (I'91, H'10) became the sixth member of the Georgetown basketball family elected to the Basketball Hall of Fame in ceremonies held Friday in Springfield, MA.
"It means a lot to me, to the generation that's coming after me, to the continent of Africa in particular, " Mutombo told Sports Illustrated. To see a son of Congo who came to America with nothing today, sitting on one of the highest platforms in the game of basketball...it means a lot. Really. It's good for my children, my wife, I just wish that my mom and dad were still alive to have seen this. I know they're watching us."
For an international sports such as the NBA, Mutombo was only the third African ever on an NBA roster when he was drafted in 1991, and took note to thank coach Thompson for his development on and off the court.
"Coach has always been a father figure to me," Mutombo said. "There's not too many things in my life that I have done without having a conversation about it with him...He's always been there for me."
Mutombo's speech during the ceremonies is found below:
Additional coverage follows:
---
Related Stories
Stories You Missed

Here's a link to prior coverage from the web site...all the way back to 1997.

Verizon Court Design

An alumnus from the class of 2006 has won a Georgetown contest for designing the Hoyas' home court at Verizon Center. Read more here.

The Class of 2018

There's something special about this year's sophomore class. Read more here.

Thompson-Cam

Follow the construction of the John Thompson Center from a 24-hour on-site camera.