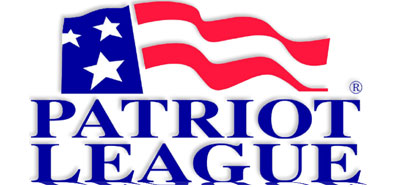 The first mid-season firing in recent Patriot league memory dropped Sunday with news that Tom Gilmore, 14 year coach at Holy Cross, was fired following the Crusaders' 32-0 loss at Yale Saturday.

"These are never pleasant decisions, but ultimately I believe this is the best course of action for our student-athletes and for the success of our football program moving forward," said Holy Cross athletic director Nate Pine.

Gilmore, the dean of active PL coaches following Frank Tavani's retirement from Lafayette in 2016, won the 2009 PL crown but was just 72-81 in 14 seasons overall, and had losing records in four consecutive seasons from 2013 to 2016 as HC was moving up to 60 scholarships. The 2017 Crusaders, led by all-PL senior Peter Pujals, are 2-5 and have lost four straight.

Interim coach Brian Rock will make his home debut at Fitton Field Oct. 28 when the Crusaders host Georgetown.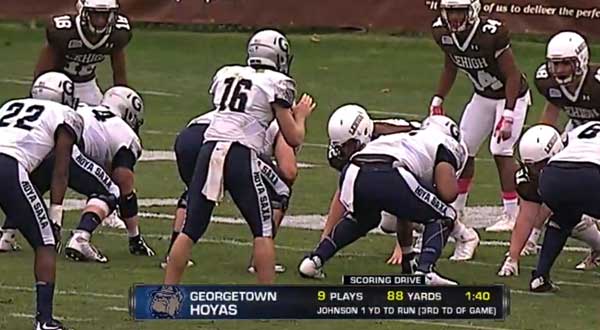 POST-GAME COVERAGE
---
Lehigh wide receiver Troy Pelletier caught a team record 16 catches for 197 yards and four touchdowns as Lehigh overwhelmed a struggling Georgetown defense, 54-35, before a smaller than expected crowd of 4,322 at Lehigh's Murray Goodman Stadium Saturday. Georgetown's fifth consecutive loss marked the first time in school history that a Georgetown defense has allowed 50 points in back to back games.

For the first 15 minutes, both teams stayed within distance of each other. Following a poor kickoff return to open the game, Georgetown punted the ball back to Lehigh after its first possession, where Lehigh QB Brad Mayes was intercepted on the Engineers' first play of the game. But as has been the case throughout recent games, the Hoyas' offense sputtered. Georgetown managed just 26 yards total offense and one first down for the quarter, where QB Clay Norris was 3 for 8 for 14 yards.

Lehigh got on the board with an eight play, 63 yard drive, which opened on two passes for 35 yards and a combined 28 yards on five carries from RB Dom Bragalone, whose last five yards gave the Engineers a 7-0 lead. On its next series, Mayes was 5 for 5 in the nine play, 77 yard drive, finding Pelletier with a seven yard pass, 14-0. GU became the first opponent of the season who failed to score in the first quarter against Lehigh.

Following a fourth straight three and out, Gunther johnson was called in to relieve Norris at QB, and started off with a ban. On his first play, Norris connected with WR Michael Dereus for an 80 yard completion and the Hoyas' first score, 14-7, with 11:30 to halftime. But this soon became a game that, much like princeton's onslaught a week earlier, where the Georgetown defense did not give the offense enough room to contend.

The teams traded touchdowns in its next two series. A six play, 65 yard Lehigh drive found Pelletier open with a 24 yard touchdown pass, 21-7. Johnson answered with a six play, 67 yard drive where he found WR Branden Williams with passes of 23 and 24 yards and where Johnson carried the ball eight yards for the score, 21-14. At this point, Johnson was 5 for 6 for 125 yards coming off the bench.

The Engineers began to pull away in its final two drives. A ten play, 75 yard drive effectively balanced Bragalone on the ground (three carries, 19 yards) and pelletier in the air (three receptions, 35 yards) in a drive that reached third down just twice in a span of 3:33. Following a 16 yard pass to Pelletier to the Georgetown 10, he found the receiver two plays later with a seven yard pass, 28-14. The Hoyas went three and out on its next series, but the Engineers blocked the punt from Brad Hurst and took over at the Georgetown 25 with just 1:08 remaining. A pair of passes to Pelletier and freshman WR Jorge Portorreal quickly brought the Engineers into the red zone, where a five yard run Bragalone run gave Lehigh a 34-14 lead at the break. The Engineers put up 363 yards in the first half, and held GU without a single third down conversion in six attempts.

Following a Lehigh field goal to open the third quarter, Georgetown caught a special teams break when Isaac Ellsworth returned the ensuing kickoff 73 yards to the Lehigh 22. In a thrilling drive that saw the Hoyas convert on two fourth down conversions, Johnson ran six yards on fourth and goal to bring the Hoyas to 37-21 midway through the third quarter. After the Hoya defense held Lehigh on downs at the GU 12, the Hoyas could do no better than one yard on its next drive, punting the ball back to Lehigh at midfield. On its first play, Mayes found Pelletier with a 48 yard pass, 44-21.

Johnson again rallied the offense with a six play, 58 yard drive that saw a serious collision between Johnson and Lehigh LB Nick Thevanayagam, who was cited for targeting but was carried off the field following the play. Following the penalty, Johnson rushed twice for 12 yards and brought the Hoyas to 44-28 to open the fourth quarter.

Once again, Lehigh answered the call. A 12 play drive consumed over seven minutes of the fourth quarter, ending at the Georgetown five yard line with a short field goal from PK Ed Mish, 47-28. After Georgetown stalled at its 37 on downs, LU ran more clock time, with six consecutive runs by senior RB Nana Amankwah-Ayeh, as the Engineers crossed the 50 point mark against Georgetown for the first time in 15 years.

Johnson responded with a crisp nine play drive that consumed just 1:42 of the fading clock, connecting on four straight passes to the Lehigh 15 and converting another fourth down conversion deep in Lehigh territory. Johnson's third rushing touchdown of the day ended the scoring with four seconds remaining in the game, 54-35.

Troy Pelletier's 16 receptions was a single game record, and his 197 yards (which helped set a new Lehigh career yardage record) was the most by a GU opponent since Fordham's Tebucky Jones, Jr. in 2013. Brad Mayes finished 31 for 40 for 384 yards and four touchdowns, with no sacks and a 7 for 12 mark on third down conversions.

Gunther Johnson was the best news of a Georgetown offense which is still ineffective in the backfield. Running backs Alex Valles, Carl Thomas, and Isaac Ellsworth combined for just 20 yards, while Johnson rushed 13 times for 71 yards. A Lehigh defense which has been rocked all season allowed 304 yards in the air, but even that was not enough to dertail the outcome as the Engineers outgained the Hoyas 628-395 overall.

The most telling statistic was time of possession, where GU's numbers diminished in each succeeding quarter. The Engineers held the ball for 37:15, while the Hoyas saw the ball for just over nine minutes for the entire second half.

Following its fifth consecutive loss and its tenth straight to Patriot League teams since the 2015 season, Georgetown returns to Cooper Field for the first time in over a month to host Fordham next week. In the midst of a discouraging 1-6 record in 2017, the Rams have nonetheless won five straight over the Hoyas and 14 of the last 16 games played in the Patriot League era.


Game statistics:

                          GEORGETOWN           LEHIGH
First downs                       18               34
Rushed-yards                   21-91           47-244
Passing yards                    304              384
Sacked-yards lost                0-0              0-0
Passes                       21-41-0          31-41-1
Punts                         7-34.9           2-35.0
Fumbles-lost                     0-0              0-0
Penalties-yards                 9-60             5-54
Time of possession             22:45            37:15
Points off turnovers               0                0

Columbia's 34-31 overtime win over Pennsylvania ended a 20 consecutive game losing streak to the Quakers, which provides Georgetown the unfortunate inheritance of the longest active losing streak in Division I-AA to a single opponent:
32-Grambling State over Prairie View A&M, 1977-2008
25-William & Mary over VMI, 1986-current; inactive since 2011
22-Eastern Kentucky over Tennessee Tech, 1976-97
20-Eastern Kentucky over Austin Peay St., 1978-97
18-Western Illinois over Southern Illinois, 1984-2001
18-Eastern Kentucky over Morehead St., 1972-89
17-Lehigh over Georgetown, 2001-current
17-Princeton over Columbia, 1954-70
16-Montana over Montana St., 1986-2001
16-Harvard over Columbia, 1979-94
16-Middle Tennessee over Morehead St., 1951-66
15-Dartmouth over Brown, 1960-74
15-Lehigh over Bucknell, 1998-2012
14-Dartmouth over Columbia, 1984-97
14-Marshall over VMI, 1983-96
14-Appalachian St. over East Tennessee, 1982-95
14-Yale over Princeton, 1967-80
-->