Home > History > History Narrative

Georgetown Football History
Chapter 9: The Return To Division I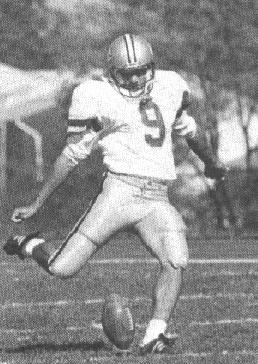 At the conclusion of the club football era, Georgetown football rejoined the NCAA ranks in 1970 at the "College Division" level, or what is now known as Division II. In 1973, the College Division was subdivided, and Georgetown was assigned to Division III for smaller, non-scholarship teams.
The move to Division III began a slow and steady decline of awareness in the sport among students and alumni. Georgetown's Division III level of play never attracted the interest of its academic peers, and the caliber of its opponents undermined fan support. For fans becoming accustomed to rivalries with the likes of Syracuse and Villanova, few rallied around a football team playing the likes of Catholic and Gallaudet.
As a Division III program, Georgetown had no full time coaching staff. Scotty Glacken, the Hoyas' coach throughout the Division III era, was a local businessman, as were his assistants and thus part-time coaches. Recruiting was largely a function of getting students already accepted to Georgetown to play football. The Hoyas' schedule was fairly constant: a mix of small, local colleges, other Division I schools playing at the Division III level for football, and some regional Division III teams.
From 1970 to 1992, Georgetown's record was a lukewarm 98-94-2 (.509), with no post-season playoff appearances. While there were some notable teams (the 1978 team, for instance finished one point short of an undefeated season), Division III teams play in virtual obscurity amidst the national coverage given Division I teams. It is a regrettable legacy of this era that many sports fans still assume Georgetown doesn't play football, simply because they had never seen a Georgetown football team on TV like their counterparts in men's basketball.
Despite the anonymity, Division III became a comfortable home for schools like Georgetown that wanted to participate in the sport without committing to enormous budgets to do so. The average annual budget in Division III football was around $125,000, compared with budgets from $1-4 million in Division I-AA and as much as $15 million at the Division I-A (major college) level. If Georgetown football failed to reach the national athletics consciousness, it did so knowing that its cost structure was compatible with the University's priorities.
By the early 1990's, there were over 25 major universities playing small college football, among them St. John's, Dayton, Santa Clara, and Alabama-Birmingham. Some universities with big-time football programs complained that these schools were reaping the rewards of Division I NCAA basketball (i.e. television revenues) without committing to Division I in all sports--namely football. The NCAA has no such football requirement (schools like George Washington, DePaul, and Providence are among 70 universities without any football program), but legislation was passed at the 1992 NCAA convention that Division I schools playing football could no longer compete in the small college ranks.
Georgetown was faced with a difficult choice--it could either upgrade the team to Division I, reduce the team to club status (which had virtually disappeared as a group since the Hoyas last played at this level) or drop the sport entirely. Aside from the question of whether Georgetown could ever hope to compete at this level, cost was a major concern--a private school could lose millions of dollars a year at this level.
The "safe" decision for Georgetown might have been to drop the sport. There was neither the money nor the will to compete in the Big East Conference for football, where most other Georgetown teams compete. The football team had struggled for years for visibility amidst the huge presence of the school's nationally ranked men's basketball program without much success. There were fewer applicants coming to the school specifically for the sport, and its coaching staff was only part-time, leading to little or no recruiting for quality athletes.
Instead of a fait accompli, students, alumni, and parents reaffirmed their support for the century-old program and promoted the benefits of I-AA football, particularly the increased visibility with Georgetown's "academic peer institutions"--schools like the Ivy League, Colgate, and Holy Cross. As Georgetown was competing with these schools academically, they sought to compete athletically as well.
Central to this plan was maintaining a Division I non-scholarship program, which Ivy and Patriot League (Colgate, Holy Cross, etc.) schools also followed. If Georgetown upgraded football to this level, its players would receive, in theory, the same need-based financial aid available to any other applicant considering Ivy or Patriot programs, without regard to athletic ability. Not only would such a program be far less costly to maintain, but would seek to attract applicants who wanted the opportunity to compete at a Division I level while maintaining strong academics, as well as for non-athletes who saw a place for football within a well-rounded campus environment.
In a larger sense, a nonscholarship Division I football program would raise the visibility of Georgetown's football tradition without bankrupting it, providing opportunities for students to compete amongst their academic peers within the overall educational goals of the university.
"I was against the NCAA legislation when I first heard of it," said one Georgetown alumnus active with the program since the 1960's, noting that the school had become comfortable in its modest Division III role. "But the more we talked about it, the more I became convinced that [I-AA] was absolutely the best thing that could have ever happened to this program."
Georgetown joined Division I-AA in 1993. Its budget was upgraded considerably from Division III levels but was still below that of most I-AA programs. It not only maintained low-cost, nonscholarship football, but provided additional resources to allow the team to be more competitive at this level. It hired an energetic 28 year old assistant coach from Johns Hopkins as a full-time head coach and provided him a recruiting budget and an expanded group of assistant coaches . To avoid being hopelessly overmatched against regional powers such as William & Mary or Villanova, it would seek instead to schedule football teams with a similar need-based financial aid philosophy.
To maintain Division I scheduling requirements, Georgetown needed at least five Division I opponents. To do so, it aligned its gridiron program with the MAAC Football League, a conference which grew to nine Catholic schools (four of them Jesuit) emphasizing cost-contained football and providing competitive play among the schools. (A similar conference, the Pioneer Football League, was formed with the University of San Diego and five Midwestern schools.)
The MAAC football conference has grown to nine Catholic universities, four of them Jesuit schools. Perhaps more importantly, by joining at the Division I-AA nonscholarship level, Georgetown could now compete among schools such as Holy Cross, Colgate, and the Ivy League for the nation's best and brightest football talent, without sacrificing academic, athletic, or financial integrity.
The Hoyas' growth at this level was marked by steady improvement. In its first year, expectations were not high, as Georgetown was ranked 226th out of all 227 Division I schools in a preseason ranking. That year, the Hoyas finished 4-5, then 5-4 the following year. By 1995, the Hoyas had improved to 6-3, and 7-3 in 1996.
The Hoyas' 1996 home finale was a sign of how far the program had come, and where it was going. Trailing by four touchdowns to an experienced Holy Cross team, a wild fourth quarter comeback thrilled the overflow crowd at tiny Kehoe Field that had come to see the first meeting between the two schools since 1950, when Georgetown was still playing major college football. Holy Cross survived in the final minute to prevail, 45-36, but the game was a sign to many that Georgetown's football future showed promise, which would take them beyond the Metro Atlantic Athletic Conference.
Home > History > To Chapter 10
---
HoyaSaxa.com: The One-Stop Web Site For Hoya Football™
An independent web site not affiliated with Georgetown University. All rights reserved.