Over the years, various statements by former Washington Post reporter John Feinstein have gone unchallenged by Georgetown officials, who opt to ignore the author rather than cross paths with him. Various Feinstein opinions are soon assumed by casual fans as fact, such as his claim that Georgetown "owes" Maryland a home game from 1993, or that Georgetown will never participate in the BB&T Classic.
On Friday, Feinstein participated in an online chat at the Washington Post. A reader question is listed as follows:
"As a longtime follower of Georgetown basketball and the school in general, I read your column following the Hoyas loss to Davidson with interest. In the article, you mention that the Administration at the University decided to move to the Capitol [sic] Centre and then Verizon Center instead of building an on-campus arena, and were "motivated by big bucks." That statement seems to indicate that a conscious choice was made to not construct an on-campus arena. Was an on-campus arena ever realistically in the cards? How do you know the choice to move was motivated by money? Among the many, many obstacles, it seems to me that the neighborhood would never agree to an on-campus arena. Please expand/explain."
"Sure -- there was great discussion at Georgetown in the '80s about whether to build an on-campus arena with about 8,000 seats, instead of a rec center," Feinstein responded. "The decision was made, I believe, to try and have their cake and eat it too."
This is false.
Any alumnus of that era knows that this timeline falls apart--the "rec center" he references was conceived in the 1970's, and was opened years before the men's basketball team moved off campus.
In a September 30, 1971 article in The HOYA, Georgetown officials proposed building a varsity swimming pool under Kehoe Field as part of its $55 million "Mandate '81" capital campaign. The project was soon modified to use additional space available under Kehoe for student recreational activities, which to this point were all held in McDonough Gym. The project, loosely referred in the student press as the "Rec Plex", broke ground in 1977 and never included a choice to build an 8,000 seat replacement for McDonough Gym.
While athletic officials have proffered various contingencies for renovation of McDonough Gym, none were the stuff of "great discussion" in the 1980's, and since Yates was already built, that was out of the mix.
Did the Georgetown administrations of the past fail to act on long range planning for basketball and other athletic facilities? Yes. But there was no false choice between a new arena and Yates, whether in the 1980's as Feinstein inaccurately asserts, nor a decade earlier.
"If you're really lucky, you get to meet a Dikembe Mutombo maybe once or twice in your life," writes Richard Justice of the Houston Chronicle. "He's a man of faith and charity, a man of humility and dignity. He understands that God blessed him with certain gifts and that with those gifts come responsibilities and opportunities."
Wednesday was Dikembe Mutombo night in Houston, where the 41 year old center was honored for his 17th and (perhaps) final NBA season. At halftime, the Rockets presented a check for $500,000 to the Dikembe Mutombo Foundation for his hospital in Kinshasa. Thursday night, the team hosted a fundraiser for the foundation with former president George Bush as its keynote speaker.
There's not many times people can get an occasion to have a former president to be the guest speaker for a function," Mutombo told the Chronicle. "I think I was lucky enough to have that relationship and to have [Rockets owner] Les Alexander host this dinner and to make the gift to the Dikembe Mutombo Foundation."
Georgetown recruit Greg Monroe was a participant at the 31st annual McDonald's All-America Game Wednesday in Milwaukee. Monroe finished with one point and six rebounds in the game, according to the Milwaukee Journal Sentinel.
An earlier article from the Journal-Sentinel discusses the impact of the NBA's 19 year old age restriction on the current players.
"I know if in the next couple months somebody gave me $20 million, I wouldn't know what to do with it," Monroe said. "I think a kid does need to have that period where they have to mature and grow as a person off the court, because if a kid has it in him, he's always going to get better as far as basketball."
GU 68, Wm. & Mary 53
GU 74, Michigan 52
GU 57, Ball St. 48
GU 66, Old Dominion 48
GU 61, Fairfield 49
GU 70, Alabama 60
GU 87, Jacksonville 55
GU 110, Radford 51
Memphis 85, GU 71
GU 78, American 51
GU 82, Fordham 55
GU 58, Rutgers 46
GU 76, DePaul 60
GU 72, Connecticut 69
Pittsburgh 69, GU 60
GU 84, Notre Dame 65
GU 64, Syracuse 62 (OT)
GU 58, W.Virginia 57
GU 74, St. John's 42
GU 73, Seton Hall 61
GU 63, S. Florida 53
Louisville 59, GU 51
GU 55, Villanova 53
Syracuse 77, GU 70
GU 68, Providence 58
GU 73, Cincinnati 53
GU 64, St. John's 52
GU 70, Marquette 68 (OT)
GU 55, Louisville 52
GU 82, Villanova 63
GU 72, W. Virginia 55
Pittsburgh 74, GU 65
GU 66, UMBC 47
Davidson 74, GU 70
Davidson won the game, given, but the poor officiating of Tom O'Neill, Paul Janssen, and Doug Sirmons punished the Hoyas all afternoon, especially with weak calls that effectively took Roy Hibbert out of any meaningful role of action.
Coaches can't say that, of course, but according to the web site Statsheet.com, Georgetown fans have a legitimate beef with the crew assignments in this game. At best, it's a case of bad judgment.
According to the box score, the three officials were Tom O'Neill, Paul Janssen, and Doug Sirmons. O'Neill actually called Friday's previous game for Davidson, which should never happen in an NCAA tournament. You can also check Statsheet's records for prior games for Paul Janssen and Doug Sirmons, who also called the Georgetown-UMBC game Friday.
Outside of some bad calls, there's nothing untoward suggested here, but the NCAA has to do better than assigning officials to the same teams consecutively in a subregional. It's a form of bias that, for either team, is not conducive to good officiating.
"I've got a very special senior class. I've got a class that is Georgetown basketball, and they have done so much for this program. They are this program. They have done so much for me. You know, I just feel like I've let them down."--John Thompson III
There will be an appropriate time and place to honor the seniors and look back with fond memories upon the season that was Georgetown Basketball in 2007-08. Yes, there is much to look with appreciation, pride, and honor.
Sunday was not that time.
Instead, in one of the notable second half collapses in the program's long history, Georgetown walked away from Raleigh NC with a one way ticket to a long off-season, losing a 17 point second half lead in just under 12 minutes, in a 74-70 loss to Davidson College.
What elevates this game from a tough loss to something more is the texture of a game where Georgetown did so many things well, yet allowed its opponent to do them much better. It was the visible manifestation of games throughout the season where Georgetown had forgotten its own roots, its own strengths, and its own keys to success. Like each of the five losses which preceded it, the game was lost where Georgetown was presumably its best: in the middle.
Roy Hibbert wasted no time in limiting his effectiveness, picking up a foul 56 seconds into play and his second foul less than seven minutes later. Despite a six inch height advantage, Hibbert took his two points and no rebounds and took a firm seat on the Georgetown bench, with the Hoyas tied at 11 with 12:41 to play.
Georgetown's defensive sets were doing a good job limiting sets into Curry, held to 1-6 midway through the half, and the Wildcats overcompensated with a number of long shots that sailed far and wide. A Jessie Sapp three gave Georgetown its first substantive lead at 17-13, and was a vital aprt of a run that opened the game up for Georgetown with 7:24 to play.

Keying off one of the season's best efforts from Vernon Macklin, Sapp and the georgetown guards began to work the ball in the middle despite Hibbert's absence. Getting the ball down low, Macklin hit one of two free throws to go to 23-17, then picked up a inside dunk, 25-17. The Wildcats closed to 27-22 before a second Sapp three, a back door play to Chris Wright, and an inside flush to Macklin kicked the lead to eleven with 3:48 to play. An Austin Freeman three extended the lead to a comfortable 37-23 before fouls set in on the Hoyas again, allowing Davidson to close to 11 at the half, 38-27. The Hoyas shot a remarkable 67% from the field, and 5-7 from three, failing only in the stat that had failed them all season, free throw shooting, shooting 5-10. Davidson could do no better than 8-30, 2-14 from three point range.

The sting of this game follows in a twenty minute stretch--a ten minute one, actually-- that will long cast an ill wind upon the memories of the 2007-08 season.

This was not a Georgetown team unaccustomed to competition: its senior class was as veteran as any unit in over a decade.

This was not a team unaccustomed to opponent rallies. It had become uncomfortably commonplace to see opponents rally from second half deficits to make it a game, and this was not a Georgetown team unfamiliar with its own second half resolve.

This was not a team unfamiliar with foul trouble. Hard has he tried to shed the label, Roy Hibbert's rep for the easy foul was well known among media and TV analysts, and doubtless among coaches as well. Yet this was not a Georgetown team unaware of what it took to succeed with its center in harm's way.


Rebounds, Roy Hibbert's debut, 11/22/04


Rebounds, Roy Hibbert's finale, 3/23/08


Second half points by Davidson


Georgetown second half FG's from 11:56 to 1:49 mark


Davidson FG's during same period


Georgetown turnovers


Davidson turnovers


Georgetown FT shooting, second half


Davidson FT shooting, second half
Finally, this was not a team unfamiliar with an opponent and its the star guard. From Johnny Flynn to Kyle McAlarney, A.J. Price to Dominic James, Georgetown's guards had seen some of the best and were more than capable of doing battle with them.
And for a twenty minute stretch--a ten minute one, actually-- these lessons were left somewhere along the way.
The opening moments of the half saw ever-steady Jonathan Wallace hit consecutive baskets to extended the lead back to 16, 43-27. Hibbert wasted only 1:43 to earn his third foul, rendering him questionable for much of the second half.
Four years of success had established Wallace as reliable an option as Georgetown had in the backcourt--yet, he got only two more shot attempts in the next eighteen minutes. A DaJuan Summers thread extended the count to 46-29 with 17:56 to play and when Chris Wright hit a jumper just after the 16 minute timeout, Georgetown was 4-4 and a remarkable 10-10 from the field dating back to the first half.
With the lead at 16, Georgetown's best efforts to build a firewall fell away like loose bricks. Vernon Macklin, eight points strong in the first half, promptly picked up a foul and missed a layup in the course of 19 seconds, allowing Davidson's 6-2 Jason Richards to maneuver past the 6-9 Macklin for a rebound and a set up to Curry, who had begun to expose Jeremiah Rivers on Georgetown's defensive sets. Rivers clumsily fouled Curry on a three pointer, and after the foul shot, Davidson closed to 48-37. The Cats were aided by an unnecessary number of Georgetown turnovers. In the first ten minutes of the second half, Georgetown gave the ball over ten times.
Hibbert reentered the scoring column for the first time since the 14:02 mark of the first half with a jumper, 50-39, but picked up his fourth foul less than 20 seconds later. To be fair to Roy, the calls were, on the whole, specious, part on an officiating crew which deserves review from the NCAA (more than that below).
The fourth foul, by itself, should not have been Georgetown's bugle call for retreat, but the stat sheet tells the story of a veteran Georgetown team whose season finale shot its wheels off over the next seven minutes.
Out of the TV timeout, Davidson's Jason Richards drove the lane for a layup, 50-41. Instead of similar inside action, Patrick Ewing Jr. missed a three pointer, and Davidson's Andrew Lovedale drove inside for a layup, 50-43. Georgetown picked up a foul on Max Paulhus-Gosselin at the 10:29 mark, only to give it back four seconds later. After Curry missed a long three, Richards worked across the screen where Curry went at Rivers again, sinking a three, 50-46.
Hibbert reentered the game, but instead of utilizing Hibbert inside, DaJuan Summers stayed outside and missed a long three. Curry fed Andrew Lovedale for an easy layup at the 8:47 mark, 50-48. Georgetown had taken a 17 point lead in the NCAA tournament and promptly lost it.
The Hoyas appeared to steady the ship with a pair of baskets, including a Sapp three, to lead 52-52 with 6:09 left. Any lessons learned in this series were soon forgotten as the #2-seeded Hoyas would not hit another basket until the 1:49 mark. Ten seconds after Sapp's three, Curry answered with a three, 57-55. Off an awkward held ball possession awarded to Davidson, and a 3rd foul on Sapp, Max Paulhus Gosselin tied the game at the line, 57-all. Chris Wright made one of two free throws to lead 58-57, only to see Curry stick it past Rivers for a layup and foul shot, 60-58.
Austin Freeman, quiet since the first half, added a pair of free throws to tie the score at 60 with 4;12 to play. With no apparent defensive stop on Curry, he raced past Rivers and Wright for a two and a three that gave Davidson a 65-60 lead--for a team which shot 8-30 against the Hoyas in the first half, the Hoyas had allowed the Wildcats baskets on 11 of its last 12 possessions.
Hibbert was fouled on the next series, and missed the front end of the one and one. Again, the Cats went inside, with a Andrew Lovedale layup, 67-60 with 2:03 to play, all but sticking a fork in this stew.
The only thing that prevented this from a double digit loss was a late run by the Hoyas, begun by a Jessie Sapp three (his first shot since the 6:09 mark), 67-63. After a weak goal tending call by the upset minded crew, Wallace got back in the scoring column, 69-65, and the Hoyas closed to two on a Summers dunk, 69-67.
With 23 seconds to play, down two, Chris Wright fouled Curry on a three point attempt, where Curry sank all three free throws. Curry added two more free throws and a Summers three closed the count to four at game's end.
Following his 40 points against Gonzaga, Curry stuck Georgetown with 30--the first player to do so since J.J. Redick in January 2006 and the first 30+ point game in NCAA play ever by a Georgetown opponent. His 25 points in the second half half has been matched by less than seven Georgetown opponents ever.
Is Curry a good player? Yes. Did Georgetown's defense do its job? No. Was it capable of much, much better? Absolutely.
The game was a microcosm of four character flaws for Georgetown seen throughout the season. Fans bristled at such assertions by media pundits, but they all fell square upon the Hoyas this afternoon:
Defensive lapses in the zone press. Georgetown's strengths as a zone team were at risk in this game and man to man efforts were not enough. Davidson used and exploited this often in the second half with Curry catching Georgetown players out of position.
The disappearing dribble drive. Clog the middle, the experts said, and Georgetown's guards have nowhere to go. In three key moments of the game, Georgetown opted to go for the low-percentage three rather than work the ball inside--they came up empty each time.
Free throws. 8-17 for the game--wholly insufficient for a nationally ranked team and/or a #2 seed. Free throw shooting for the season (65.4%) was the lowest for a Georgetown team since 1998-99 and ranks 25th among the last 31 Georgetown teams. The team really let this statistic slip--if Georgetown had shot Sunday at last year's 71% pace, it would have added--you guessed it, four points to the total, or the margin of defeat.
The soft middle. Despite a 7-2 center, a 6-9 backup, and a 6-8 PF, Georgetown entered Sunday's game as one of the nation's most underperforming rebound teams. In 21 games this season, Georgetown gave up more offensive rebounds than its opponent. Each of Georgetown's six losses had a negative variance on offensive rebounds--Davidson had 12 offensive rebounds to just seven for Georgetown on Sunday, despite no one taller than 6-8 on the floor.
"It's disappointing," said coach John Thompson III in an unusually personal response in the post-game press conference. "I guess I just want to say, I've got a very special senior class. I've got a class that is Georgetown basketball, and they have done so much for this program. They are this program. They have done so much for me. "
"You know, I just feel like I've let them down," he continued. "It's a group of guys that have done any and everything I've asked them for four years. You know, they have put this program on their back, put us in a position where we can possibly have success in the future. I just feel bad for these guys. I feel bad for these guys. You know, we lost to a terrific team today. But I can't -- I just feel bad for my seniors. "
"No, we don't think Coach let us down," said Jonathan Wallace completing his 136th and final game for Georgetown. "Coach did everything he could to put us in a good position so we could better ourselves. It's not just me and Roy did all the work; Tyler Crawford and Patrick Ewing, Jr., all of the work they put in, it was a struggle and we were all together."
"I have never been around a collective group that cares as much as they do," said Thompson. "I've never been around a collective group that totally understands the sacrifices that are necessary, the individual sacrifices that are necessary for the success of the group sometime. And I just wish that those guys had the opportunity to still be playing. I mean, we're in this together, they know that, I know that. You know, in some way, shape or form, everyone in that locker room is responsible for us losing together, just like everyone is responsible when we win.
"But that group, I just wish that group could still be playing."
Here's the Georgetown half of the box score.

         MIN   2FG   3FG   FT  REB  A  PF  PTS
Starters:                                 
Wallace   33   3-4   2-4   0-0   4   1  1   12
Sapp      24   1-1   4-5   0-0   4   2  3   14
Freeman   23   0-0   2-2   3-4   2   1  4    9  
Summers   25   2-4   2-4   0-0   4   1  3   10
Hibbert   16   3-3   0-0   0-1   1   1  5    6
Reserves:
Macklin   18   2-4   0-0   4-8   3   1  2    8  
Wright    19   4-5   0-1   1-2   4   3  3    9
Rivers    16   0-0   0-0   0-0   1   1  3    0
Crawford   6   0-0   0-0   0-0   1   0  0    0
Ewing     20   1-2   0-2   0-2   2   0  3    2
DNP: Mescheriakov, Jansen, Wattad
Team Rebounds                    4
TOTALS   200 16-23  10-18  8-17 30  11 27   70

Post-game links follow below.
Without the late game heroics seen in many of friday's early round games, the Georgetown Hoyas methodically dismissed the Retrievers of Maryland-Baltimore County Friday, 66-47.
Georgetown started with the first five points of the game, but the Retrievers owned an early edge on the boards and led 12-9 early. The Hoyas were not getting the ball into Roy Hibbert and settled for three pointers, which, at 1-6 to open the game, was not effective. When Jessie Sapp hit a three to extend the Hoyas' lead to 21-17 midway through the half, keying a 13-0 run that put the Hoyas up 14 with 2:51 left. UMBC got it to nine before Chris Wright hit a three at the buzzer to give Georgetown a 12 point halftime lead.
The second half was a ragged one on both ends of the court. Georgetown missed its first shots before hitting five straight to extend the lead to 19, 48-29, but missed eight of its next nine. UMBC could not find the basket inside or outside, and could not get within 13 as the Hoyas went back inside and built the lead to as many as 21.
Jonathan Wallace and Roy Hibbert led all GU scorers with 13 each. Patrick Ewing scored eight in the second half and 10 overall, with a number of key defensive stops. Georgetown's three point and foul shooting remain spotty, but against UMBC they were not a factor. The Georgetown defense was particularly effective against UMBC's leading scorer Ray Barbosa, who finished 2-11 for the afternoon. UMBC's inability to get back in the game from outside (4-15 shooting) put the Retrievers out of this one soon into the second half.
The win marked John Thompson III's 100th victory as head coach of the Hoyas.
Georgetown advances to the second round against Davidson, which upset #7 Gonzaga behind eight threes and 40 points from guard Stephen Curry. The Wildcats have won 23 straight since falling to NC State 66-65 on December 21.
Here's the Georgetown half of the box score.

         MIN   2FG   3FG   FT  REB  A  PF  PTS
Starters:                                 
Wallace   33   3-4   2-6   1-2   6   4  1   13
Sapp      30   0-1   1-6   0-0   3   4  3    3
Freeman   22   2-3   1-2   4-5   3   0  2   11  
Summers   30   0-1   2-5   0-0   5   0  2    6
Hibbert   23   6-8   0-0   1-3   7   2  1   13
Reserves:
Macklin    6   1-2   0-0   0-0   2   0  1    2  
Wright    16   1-2   2-2   0-2   1   0  0    8
Rivers    16   0-1   0-1   0-2   2   0  1    0
Crawford   2   0-0   0-1   0-0   0   0  0    0
Wattad     1   0-0   0-0   0-0   0   0  0    0
Ewing     21   5-6   0-0   0-0   6   4  1   10
DNP: Mescheriakov, Jansen
Team Rebounds                    5
TOTALS   200 18-28   8-23  6-14 40  14 12   66

Post-game links follow below.
Georgetown is ranked eighth in the final Associated Press poll of the season, one of ten schools to have been ranked every week of the season. It's the first season the Hoyas have been ranked throughout the season since the 1995-96 season.
Six Big East teams finished in the Top 25. Other conference teams in the final AP poll include Louisville (13), Notre Dame (15), Connecticut (16), Pittsburgh (17) and Marquette (25).
Even in the Internet age, articles from Sports Illustrated magazine still carry its weight in the sports world. Many years ago, longtime Georgetown fans remember a feature from Bil Gilbert which helped bring the emerging story of John Thompson Jr. to a national audience; conversely, a 1983 story from Curry Kirkpatrick negatively impacted perceptions of Georgetown basketball for years thereafter.
This week's magazine has an extensive article from noted SI writer Alexander Wolff on coach John Thompson III and his development into the coach he is today. Recommended reading.
Also of interest--DaJuan Summers is on the cover of regional editions of the magazine this week in advance of the NCAA tournament.
Plenty of articles follow in this link to Tuesday's HOYA sports section, including a feature on former Georgetown forward Anthony Allen (C'90), who works in campus security in addition to youth ministry at a local D.C. church.
A study by the Institute for Diversity and Ethics in Sport has ranked the 65 NCAA teams on graduation rates, with Georgetown placing 13th among the 65, according to the Georgetown Voice.
"There is positive academic news for the tournament teams when we examine the Graduation Success Rates," said institute director Richard Lapchick. "However, the ongoing and significant disparity regarding the academic success between African-American and white men's basketball student athletes is deeply troubling. Higher education's greatest failure is the persistent gap between African-American and white basketball student-athletes in particular and students in general. The good news there is that the gaps are narrowing slightly."
Teams were ranked based on their graduation rates from the 1997-98 through 2001-02 freshman classes, or roughly from the Georgetown eras of Willie Taylor and Kenny Brunner through that of Ramell Ross and Darrel Owens. Georgetown's GSR during this period was 82% versus a overall student mark of 96%. (For details on the GSR, visit this News Archive link.)
Sometime in the next three weeks, the college basketball careers of four Georgetown seniors will end, and for four students that have grown up together on and off the court, each will inexorably go their separate ways.
Senior center Roy Hibbert took a moment to looked back on his years in this article from the Associated Press.
"I want to get in as much time as I can with these guys before we have to depart, before basketball gets really serious and we have to talk about contracts and stuff," Hibbert said. "Hopefully, we can go out with a bang."
"He's absorbing all of the college life," said guard Jonathan Wallace. "Everybody wants to go for the early money, but Roy saw the bigger picture. It's all about developing both athletically and academically. Roy takes a lot of pride in that."
Hibbert, who has been closely following the 2008 political races, once joked about running with Wallace for political office in the future.
"Jon's a charming young chap," Hibbert said (in probably the only quote this season from a college basketball player using the word "chap"). "I'll let him be at the top of the ticket. He can do all the work, and I'll just go to [state] funerals."
Amidst the game recaps last week, Mike Wise had a great article in the Washington Post talking to the parents of Patrick Ewing Jr. on his years at Georgetown and his upcoming graduation in May.
"I was worried about him going to Georgetown at the time, but now I'm glad he did," said Ewing's mom, Sharon Campbell, who traveled from Atlanta to see her son Mar. 9 on Senior Day.
"He's naturally a very good athlete, but there's a lot more to him," said his father, Patrick Sr. (C'85). "He's smart. He thinks the game. He's a remarkable young man."
"It's come full circle," the elder Ewing said. "I was here. I had my day...It was a proud moment, but I'll be even more proud on his graduation day."
Following its finish in the Big East tournament, Georgetown will open the 2008 NCAA tournament as the #2 seed in the Midwest Region, earning the school its 25th NCAA appearance and 35th post-season bid overall.
One of three DC-area teams selected and among a record eight Big East selections, the Hoyas will play in Raleigh, NC Friday against #15 seed Maryland-Baltimore County (24-8), who won the automatic bid from the Atlantic East conference. The game is only the second meeting ever between the schools, and the first since 1987-88, a 89-59 Georgetown win.
Players gathered with students at O'Donovan Hall at the announcement of the pairings.
"Two, three years ago, we probably would've been jumping up and down, going crazy," senior Roy Hibbert told the Washington Post. "But we knew we were in, we all assumed what number we were going to be. It was just a matter of where we were going to play. We're going to have to go out there and handle our business."
Extensive coverage follows nationally on the brackets and the various teams. Selected links are found below.
The University of Maryland-Baltimore County enters NCAA play as the champions of the America East conference. This is the first trip to the NCAA tournament for UMBC, whose first varsity team was in 1967-68 and which joined Division I in 1986-87. Before joining the America East conference in 2003, UMBC played in the East Coast (1990-92), Big South (1992-98), and Northeast Conference (1998-03).
UMBC enters the field with the distinction of the nation's best assist to turnover ratio in the nation, with 492 assists and only 306 turnovers on the season (9.6 per game).
Some introductory links on UMBC follow below.
The nation's largest conference came up big in the 2008 tournament, with a record eight schools selected, doubling that of the Atlantic Coast Conference's four selections.
The eighth school, Villanova, was reported to be the last selected following its first round win against Syracuse before falling to Georgetown in the quarterfinals. Syracuse failed to make the NCAA's for the second straight year, and will play in back to back NIT's for the first time since the 1980-81 and 1981-82 seasons.
"We're just thrilled to be in. It's great for us and our young team," said Villanova coach Jay Wright to the Associated Press. "I felt good about how we've been playing and I thought it was possible we would get in, but also possible that it wouldn't happen.
Here's a recap of the Big East teams selected in the NCAA:
| | | | | |
| --- | --- | --- | --- | --- |
| Seed | Team | Record | RPI | Next Opponent |
| 2 (Midwest) | Georgetown | 27-5 | 8 | #15 UMBC (24-8) |
| 3 (East) | Louisville | 24-8 | 13 | #14 Boise St. (24-8) |
| 4 (South) | Pittsburgh | 25-9 | 15 | #13 Oral Roberts (23-8) |
| 4 (West) | Connecticut | 24-8 | 18 | #13 San Diego (20-13) |
| 5 (East) | Notre Dame | 24-7 | 26 | #12 George Mason (23-10) |
| 6 (South) | Marquette | 23-9 | 20 | #11 Kentucky (18-12) |
| 7 (West) | West Virginia | 23-10 | 27 | #10 Arizona (18-14) |
| 12 (Midwest) | Villanova | 20-12 | 51 | #5 Clemson (23-9) |
All eight teams which advanced to the Big East quarterfinals last week were selected to the NCAA tournament, leaving only two teams with a .500 or greater record eligible for the NIT.
Syracuse (19-13) was selected as the lone Big East representative in the NIT, and will face Robert Morris. Seton Hall (17-15) was reported to be have been offered a game with Utah in the new College Basketball Invitational tournament, but declined the bid.
Cincinnati, despite a 13-18 record, accepted a CBI bid and will play Bradley (17-15) in the new tournament, according to the Cincinnati Enquirer.
Rarely has a pair of 65 point games seemed so disparate.
A year ago, Georgetown scored 65 points to earn its first Big East title in 18 years. A year later, a 65 point game against Pittsburgh seemed strangely out of sync, as the Panthers out battled Georgetown in every phase of the game to earn its second title, 74-65. Having lost just six games over a 15 month period dating back to January, 2007, Saturday's loss in the 2008 final was no fluke- the result of a relentless, passionate Pitt attack that bore no small resemblance to the hurt that Georgetown put on the Panthers a year earlier.
Georgetown scored the first six points of the game, and forced four early turnovers. But amidst the early moments of the game, the seeds were sowed for Pitt's win--rebounding. Georgetown had owned first half rebounding leads of 20-9 and 19-10 against Villanova and West Virginia, the Panthers took the game away on the boards. Despite no starter taller than 6-8, Pitt collected 10 straight offensive rebounds in the first half, a statistic largely unheard of over the four year career of Roy Hibbert in a Georgetown uniform. To its credit, however, Georgetown did not back down, and the two teams traded their best shots in a first half that saw Georgetown shoot 50 percent from the field and trail by three at the half, 31-28.

The rebounding advantage (20-11) allowed the Panthers something that eluded the two previous teams in Georgetown's path this past week--presence. When the Hoyas were able to turn the opponents back in the second half, they did it on the boards. When the second half beckoned, Pitt took the Hoyas best weapon and turned it on them.

Georgetown opened the half and missed its first three shots. Three rebounds and a steal led to a pair of baskets which extended the Pitt lead to seven, beginning a curious run where the Hoyas closed, but never overtook, the Pitt lead. Layups were passed back and forth, but the Panthers did not back down. Georgetown closed to four at the 11:31 mark, only to see Sam Young convert off an offensive rebound to go back to six. Pitt was aided by a number of foul calls which went against the Hoyas all night and all tournament, but Pitt's free throw shooting (50 percent) gave the Hoyas more than its share of chances.


Georgetown free throws


Pittsburgh free throws


Georgetown rebound advantage, 2007 title game


Pitt rebound advantage, 2008 title game


Georgetown three point shooting, second half.


Big East tournament wins for Pittsburgh, 1982-2000.


Big East tournament wins for Pittsburgh, 2001-2008.
Georgetown would close to five points on two occasions with under nine minutes to play, only to be buried by the offensive rebound. A layup by Dejuan Blair kicked the lead back to seven, followed by a 1-2 rom the line to go up eight, 50-42 with 7:30 to play. Off the missed free throw, Pitt controlled the ball and picked up three straight offensive rebounds before Blair was fouled on a layup, connecting on the ensuing free throw. The five point lead had gone to 11, and Georgetown's hopes began to fade.
Pitt continued to struggle from the line, giving Georgetown a narrow window to work down the lead. Trailing by ten with 3:45 to play, Pitt could not close the door from the line and a pair of Patrick Ewing layups brought the lead to six with 1:50 to play. On the next series, Pitt's Levance Fields made both free throws, 64-57, and the Panthers stuffed Hibbert inside, but missed 1 of 2 at the line. Jonathan Wallace answered the bell with a big three to close to 65-60 with 1:23 left, and after Pitt missed another free throw, Ewing lost the ball under the GU basket with 1:07 to play, and the Panthers proceeded to hit its next six free throws to close out the scoring.
Georgetown's effort wasn't a show of weakness as much as Pittsburgh's was a show of strength. The large Georgetown turnout at the garden had seen the Hoyas pull away from teams like Villanova and West Virginia at crunch time, but saw no such movement against the Panthers, a team which had not only won four games in four days to take the title, but had worked through the toughest teams in the league, including wins over Louisville, Marquette an Georgetown. In its sixth finals appearance in seven years, the Panthers reminded the Big East of how strong a program it has created in this decade.
Pitt's gain has come at the expense of St. John's, as the city players that had once starred in games for the Redmen are increasingly stars on teams like Pittsburgh. "Without question, we're New York's team," Fields told reporters after the game, where five Panthers have city roots. "Nothing against St.John's, but we have a lot of New York City kids and we win a lot, especially in New York."
The game was a tough, though not bitter lesson for a Georgetown team accustomed to late game comebacks. But there was no comeback, at least not Saturday, and if there are lessons to be gained by the way Pitt beat the Hoyas at its own game, the tests will follow in the weeks to come.
Here's the Georgetown half of the box score.

         MIN   2FG   3FG   FT  REB  A  PF  PTS
Starters:                                 
Wallace   36   2-3   2-6   2-2   2   5  2   12 
Sapp      24   0-2   3-6   0-0   2   1  2    9 
Freeman   25   0-1   3-6   0-0   0   2  2    9
Summers   22   4-4   0-3   1-2   6   2  5    9 
Hibbert   31   8-14  0-0   1-1   6   1  4   17
Reserves:
Macklin    9   0-0   0-0   0-0   1   0  0    0
Wright    17   0-2   0-2   0-0   2   0  3    0
Rivers    11   0-0   0-0   1-2   3   0  5    1
Crawford   2   0-0   0-0   0-0   1   0  0    0
Ewing     26   3-4   0-1   2-2   2   4  4    8
Team Rebounds                    4
DNP: Mescheriakov, Jansen, Wattad
TOTALS   200 17-30   8-24  7-9  29  15 26   65

Post-game articles follow below.
On Thursday afternoon, Roy Hibbert sat. On Friday night, he stood tall.
Hibbert's energetic performance Friday propelled the #1 seeded Georgetown Hoyas to the Big East tournament title game with a 72-55 win over a strong West Virginia team that challenged the Hoyas throughout the game. Hibbert scored 25 points and 13 rebounds which proved decisive in steering past an underrated West Virginia club.
Georgetown came out focused and ready for battle. Inside, Georgetown was able to leverage Hibbert, who was 6-7 in the first half and 1-1 from three, his third three pointer in as many attempts for his career. Outside, the three point shooting took a breather from Thursday's frenetic pace, but the Hoyas still hit 40% in the half and led by 12 at the half, 33-21. The Mountaineers, which had upset Connecticut in a wild finish Thursday, were held to just 34 percent shooting in the first half.
As was the case against Villanova, the Hoyas could not hold onto a halftime lead. WVU got back in the game by the outside shot, hitting five straight in the first nine minutes of the second half and cutting Georgetown's 12 point lead to four. With Georgetown needing a boost, they got it from Hibbert, who scored in, around, and over the smaller WVU front line, keying a 16-0 run that put the game out of reach.
"I love Angry Roy," Summers joked to the Washington Post. "We always tell him he's too nice. When he decides that he's going to dominate, he does it."
Georgetown finished with 53 percent shooting in the half and for the game, while holding the Mountaineers to 2-7 three point shooting the remainder of the game. WVU forward Joe Alexander, who humbled the Huskies with 34 points in the quarterfinal, was held to 5-16 shooting and 12 points on the evening. Despite a poor night at the line (1-7), Georgetown enjoyed a 40-22 edge on rebounds, which shut down the Mountaineers late. Another strong sign was Georgetown's fouls, which dropped from 24 Thursday to just 11 in Friday's game, limiting WVU from getting back in the game from the line.
Georgetown advances to the finals Saturday against the team they defeated in 2007, Pittsburgh. The Panthers are coming off tourney wins over Cincinnati, Louisville, and Marquette, and pose a tougher test for the Hoyas inside than West Virginia was able to mount Friday.
Here's the Georgetown half of the box score.

         MIN   2FG   3FG   FT  REB  A  PF  PTS
Starters:                                 
Wallace   33   0-2   3-4   0-0   3   2  2    9
Sapp      27   5-7   1-4   0-1   7   2  1   13
Freeman   21   2-3   1-1   0-0   2   2  1    7  
Summers   30   3-6   1-3   0-0   3   2  0    9
Hibbert   28  11-16  1-1   0-1  13   2  2   25
Reserves:
Macklin    8   2-2   0-0   0-1   4   2  0    4  
Wright    13   0-2   0-0   0-2   3   2  1    0
Rivers    16   1-2   0-2   0-0   0   0  1    2
Jansen     1   0-0   0-0   0-0   0   0  0    0
Crawford   1   0-0   0-0   0-0   0   0  0    0
Wattad     1   0-0   0-0   0-0   0   0  0    0
Ewing     22   1-3   0-2   1-2   1   3  3    3
DNP: Mescheriakov
Team Rebounds                    4
TOTALS   200 25-43   7-17  1-7  40  17 11   72

Post-game articles follow below.
No doubt. No dispute.
In a game where senior center Roy Hibbert was held scoreless for the first time in over two years, Georgetown answered with a record 17 threes in an 82-63 win over the Wildcats in Big East quarterfinal action Wednesday. The top seeded Hoyas won their sixth straight in a game where they survived two runs by the Wildcats thanks to the outside shot, and not only set a school record for threes but tied a conference record in the process.
Georgetown opened the game strong, paced by good outside shooting from guard Jessie Sapp and forward DaJuan Summers. But a quick whistle and aggressive play inside lost Roy Hibbert early with fouls and threatened to do the same to Vernon Macklin, each of which picked up two fouls in the first half. To compensate, the hoyas went outside, with great success.
The Hoyas made only five two point goals in the half, one better than a Villanova team held to just 30 percent shooting thanks to a strong Georgetown defense. Instead, the Hoyas went early and often from outside, hitting 10 of 17 in the first half, including a 5-5 effort from Jonathan Wallace and 3-5 for Jessie Sapp. Wallace finished with 19 points in a 40-29 halftime score for the Hoyas, its most points at the half in a Big East tournament game in five years. The only stat keeping Villanova in the same area code as the Hoyas was at the free throw line, with 15-18 shooting, while the Hoyas posted no free throws for the half.
Georgetown's good fortunes were tempered by a late run by Villanova at the end of the half that continued at the start of the second. Forward Antonio Pena went inside to key an early rally that sent Hibbert to the bench with his third and fourth fouls within three minutes into the second half. The Cats erased the 11 point lead with surprising ease and took the lead with 13:41 left, increasing the lad to as many as four at 47-43, a 26-9 run paced by Georgetown foul trouble and a parade of Wildcats to the foul line.
Villanova led 50-48 with just over 12 minutes to play when Jessie Sapp turned the Hoyas' fortunes. He sank a long three to give Georgetown the lead, 51-50, then off a steal Sapp spotted up for a second three, 54-50, and the G-men never looked back. Outside shooting proved essential after Macklin fouled out with under six minutes in the half, and Hibbert followed at the 5:09 mark. Villanova closed to 65-58 before the Hoyas scored the next ten points to put the game firmly out of villanova's reach. The Wildcats, who had run past Syracuse by 19 on Wednesday, fell victim by the exact same score a day later.
Despite playing with four fouls each, DaJuan Summers and Patrick Ewing Jr. worked the inside game, allowing Georgetown's exterior defense to force Villanova into poor shooting down the stretch, and Villanova was halted down the stretch. Had either or both fouled out, Georgetown's tallest available player would have been 6-7 walk-on Bryon Jansen, but Summers and Ewing combined for 21 points and seven rebounds in the half. Over the last twelve minutes of the game, the Wildcats were outscored 34-11.
Guards Jessie Sapp and Jonathan Wallace combined for 11 threes and 43 points to lead all scorers. DaJuan Summers had four threes and 19 points overall, while freshman guard Chris Wright returned to action for the first time since Jan. 5 with a strong effort: six points and four assists in 16 minutes.
Georgetown advances to the semifinals Friday night against West Virginia, while Villanova awaits whether its first round win over Syracuse will be enough to qualify for the NCAA tournament brackets to be announced Sunday.
Here's the Georgetown half of the box score.

         MIN   2FG   3FG   FT  REB  A  PF  PTS
Starters:                                 
Wallace   35   2-4   5-6   1-2   2   1  1   20
Sapp      30   2-3   6-9   1-1   3   4  2   23
Freeman   32   2-5   1-3   0-0   3   5  1    7  
Summers   25   3-4   3-5   4-7   4   2  3   19
Hibbert   14   0-2   0-0   0-0   4   0  5    0
Reserves:
Macklin   16   0-1   0-0   0-0   4   0  5    0  
Wright    15   0-0   2-3   0-0   0   4  1    6
Rivers     9   0-1   0-1   0-0   2   2  2    0
Ewing     24   2-3   0-1   3-3   9   7  4    7
DNP: Jansen, Mescheriakov, Crawford, Wattad 
Team Rebounds                    1
TOTALS   200 11-23  17-28  9-13 25  20 24   82

Post-game articles follow below.
Here's a review of the overall tournament records of the twelve teams heading into the week. Georgetown is one of three original Big East teams to have qualified in every Big East tournament.
| | | | | | | |
| --- | --- | --- | --- | --- | --- | --- |
| Seed | BE Tourn Record | Semis Record | Finals Record | Last Semis | Last Finals | Last Title |
| 1. Georgetown | 44-21 | 11-7 | 7-4 | 2007 | 2007 | 2007 |
| 2. Louisville | 1-2 | 0-1 | 0-0 | 2007 | -- | -- |
| 3. Notre Dame | 4-12 | 0-2 | 0-0 | 2007 | -- | -- |
| 4. Connecticut | 40-22 | 9-3 | 6-3 | 2005 | 2004 | 2004 |
| 5. Marquette | 1-2 | 0-0 | 0-0 | -- | -- | -- |
| 6. W. Virginia | 5-10 | 1-0 | 0-1 | 2005 | 2005 | -- |
| 7. Pittsburgh | 19-24 | 6-3 | 1-5 | 2007 | 2007 | 2003 |
| 8. Villanova | 29-27 | 4-11 | 1-3 | 2006 | 1997 | 1995 |
| 9. Syracuse | 42-23 | 13-6 | 5-8 | 2006 | 2006 | 2006 |
| 10. Cincinnati | 0-1 | 0-0 | 0-0 | -- | -- | -- |
| 11. Seton Hall | 19-25 | 2-5 | 2-0 | 2001 | 1993 | 1993 |
| 12.Providence | 15-26 | 1-6 | 1-0 | 1994 | 1994 | 1994 |
Here's the all time record of the Hoyas in the tournament against the eleven other teams in the 2008 tournament:
| | | | |
| --- | --- | --- | --- |
| Opponent | Record | Last GU Win | Last GU Loss |
| 2. Louisville | 0-0 | None | None |
| 3. Notre Dame | 2-0 | 2007 Semis | None |
| 4. Connecticut | 2-5 | 1991 Quarters | 2005 Quarters |
| 5. Marquette | 1-0 | 2006 Quarters | None |
| 6. W. Virginia | 1-0 | 2000 1st Rd. | None |
| 7. Pittsburgh | 3-0 | 2007 Finals | None |
| 8. Villanova | 4-0 | 2007 Quarters | None |
| 9. Syracuse | 6-6 | 2000 Quarters | 2006 Semis |
| 10. Cincinnati | 0-0 | None | None |
| 11. Seton Hall | 4-4 | 2005 1st Rd. | 2001 Quarters |
| 12. Providence | 7-1 | 2002 1st Rd. | 1994 Finals |
Seniors Roy Hibbert and Jonathan Wallace were named first and second team all conference selections, respectively as announced by the conference on March 10. Austin Freeman was named to the All-Rookie team. Here's a link to the announcement.
"In about a week, some well-intentioned television analyst will surmise why the Hoyas don't deserve a No. 1 seed in the NCAA tournament. Or point out how Georgetown is too flawed to win the national title a year after its scintillating run to the Final Four. And, as usual, they will miss the point completely," wrote Mike Wise of the Washington Post, one of a pair of articles this weekend reinforcing the amazing journey enjoyed by Georgetown fans over the last four years.
"Running on memories more than fumes, Georgetown [in 2004] had become St. John's South -- that esteemed, private Catholic university that kept waiting for its time-machine transport back to the 1980s.", Wise writes. St. John's, which has now missed the Big East tournament four times in the last five years, was picked along with Georgetown for the bottom two places in the 2004-05 pre-season Big East polls.
And four years later?
"Looking back to that day in 2004, with JT III and young Roy Hibbert standing there, it's safe to say almost every hoop dream a player and coach could have imagined four years ago has come true," said Wise. "Dropping top-ranked Duke two years ago; stunning North Carolina last March; just two wins away from a national title; and another Big East crown Saturday before a deafening crowd at home."
"Really, this is all borderline stunning," writes Dana O'Neil at ESPN.com. "When JTIII left the security and success of Princeton, a jump from the Ivy League to the Big East that normally would seem like a mammoth leap up the success ladder, more than a few people wondered whether he was killing his career. Caught in the shifting landscape of college athletics, where private Catholic schools struggled without the benefit of the almighty BCS football dollar, Georgetown had virtually disappeared from the hoops horizon. Hoya Paranoia was a regular on the NIT circuit."
"I've said this from the first day, the first press conference, it's a process, and I still feel that way," said Coach Thompson. "We're still at the early stages of that process. We've been fortunate to have some success, but we're at the early stages in terms of where I want to be."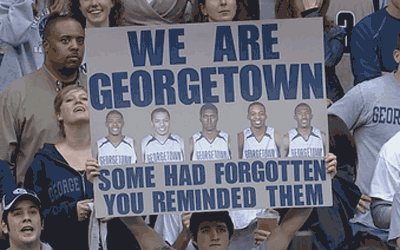 The Class of 2008 entered Verizon Center four years ago with a loss to Temple. They left the court Saturday as winners.
A DaJuan Summers three pointer with 38 seconds left led the Georgetown Hoyas to back to back Big East regular season championships for the first time ever, a 55-52 over Louisville. A national TV audience joined an A-list audience in a game that featured numerous runs by both clubs, in a game decided within the last minute of play between the conference's two best teams.
A pair of threes by Summers and Jonathan Wallace staked the Hoyas to an early 8-5 lead, but with two of the top three field goal defense teams in the nation, scoring ground to a halt midway in the first half. Neither team scored a field goal for six minutes until a Louisville field goal at the 9:22 mark, 10-9. Georgetown's next field goal was a Ewing to Wallace back door play at the 7:46 mark, 12-9, its first basket in almost eight minutes. Louisville got into double digits at the 4:36 mark following a missed dunk by DaJuan Summers, 14-11, part of a first half where the teams had more turnovers (16) than field goals (10).

Louisville closed to 14-13 at the 3:44 mark and took the lead 26 seconds later, 15-14. A Terrance Williams three, the first in seven Louisville attempts, built a four point lead, 18-14 with 2:46 in the half, before Georgetown's defense held Louisville without a field goal the remainder of the half.

A Patrick Ewing Jr. three with 2:14 ended Louisville's 10-0 run, 19-17, followed by a Austin Freeman three, 20-19. Sapp added a layup with :37 left, 22-19, and Hibbert scored his only points of the half in the final two seconds, 24-19, with a 10-0 run to match the cardinals own 10-0 run earlier in the half. The 19 points was the fewest points scored by a Louisville team all season.

Georgetown opened the second half with a Hibbert jumper and a Wallace to Freeman basket, 28-20. A Freeman jumper extended the lead to nine with 16:16 left, answered by David Padgett, 34-27, and then returned by Freeman in the form of consecutive threes, 40-29.


Consecutive home wins.


3-pt. shooting by Louisville's Jerry Smith, Feb. 9 vs. GU


3-pt. shooting by Louisville's Jerry Smith, this game.


Georgetown turnovers.


Louisville FT shooting.


Georgetown shooting, second half.


Georgetown's two-year record in games of 3 pts. or less.


What Freeman taketh, Freeman giveth away. A run of three consecutive turnovers by the freshman opened the door for Louisville, a 7-0 run to close to four, 40-36 at the 12:15 mark. Defense and turnovers weighed down the score again, with Georgetown leading only 44-42 with 7:27 to play. Derrick Caracter tied the score at 44-all with the 6:57 mark, where Freeman got the Hoyas back on top and Jessie Sapp blew by the defense with 5:55 to play, 48-44.
Hibbert picked up his third foul at the 5:21 mark, as Earl Clark closed the lead to two, 48-46. The Cardinals then ran a full court press for a quick steal, the seventh turnover of the half versus none for the Cardinals, where Padgett hit two free throws at the 5:00 mark, 48-48.
Hibbert worked inside for a basket, but the Hoya defense opened up Terrence Williams for a three with 3:36 left and the Cardinals' first lead of the half, 51-50. Ewing missed a long three but Wallace saved the play with an offensive rebound at the 2:58 mark, but Hibbert missed a short hook with 2:36 left.
Off the next play, Georgetown forced one of Louisville's two turnovers in the half, but struggled to find an option inside. Driving into the lane, Wallace added to his legend with a fade away in double coverage, 52-51. On the next series, Earl Clark was fouled but made one of two, 52-52, setting the Hoyas up for Summers' three. The Cardinals had three three point chances in the final 38 seconds, missing all three.
"We actually wanted to get a shot for Jon and it wasn't there," said John Thompson III. "He was unselfish as always, kicked it around and we ended up getting a wide open shot for DaJuan that he knocked down."
"It was nothing easy, there were no easy shots," said Louisville coach Rick Pitino. "There was a lot of aggressive play out there by both teams. They've been lucky, but they won tonight because they were better."
Here's the Georgetown half of the box score.

         MIN   2FG   3FG   FT  REB  A  PF  PTS
Starters:                                 
Wallace   38   2-5   1-2   2-2   3   2  0    9
Sapp      29   3-5   0-0   0-0   7   5  3    6
Freeman   29   3-5   3-4   0-0   1   0  3   15  
Summers   29   1-2   2-4   0-0   4   1  3    8
Hibbert   36   6-12  0-0   0-0   6   3  3   12
Reserves:
Macklin    2   0-1   0-0   0-0   1   0  1    0  
Rivers    12   0-1   0-0   0-1   1   0  1    0
Crawford   1   0-0   0-0   0-0   1   0  0    0
Ewing     25   0-0   1-3   2-2   3   2  1    5
DNP: Wright, Jansen, Mescheriakov, Wattad 
Team Rebounds                    2
TOTALS   200 15-31   7-13  4-5  29  13 15   55

Post-game articles follow below.
Thursday's Washington Times takes a look back at the Class of 2008, not only in reminding readers of where Georgetown is today, but where these students were four years ago, when only one was ranked as high as #97 in some recruiting services and the others no other higher than 150.
"This group, and I am including Jeff [Green], is just an incredible group of young men," Thompson told the paper. "They are remarkable people. They came in to an uncertain situation and gave themselves completely to the notion of team. I don't think I've ever had an entire group understand and commit themselves as selflessly from Day 1."
"We used to make each other laugh so much, and leaving that and going where a bunch of adults are, it's a tough transition," Green told the Washington Post. "I talk or text each and every one of them every day about nothing. The relationship there is very strong. If you call somebody every day just to ask what are you doing, and it's the same thing every day? You call just to make sure that they're all right and to hear their voice? I do miss them. But I'm not going to tell them that."
With days to go before the season finale, we've taken some time this week to salute the Class of 2008. Monday, it was Tyler Crawford, followed by Patrick Ewing, Jr. on Tuesday, Jonathan Wallace on Wednesday, and Roy Hibbert on Thursday.
So where does 2008 rank among the senior classes that proceeded them? Simply stated, among the very best.
Entering the Louisville game, the class of 2008 has been a part of 96 wins, fifth best among four year classes, with a 52-10 mark at home. Over the last two seasons, the numbers are even more notable, with a 54-11 overall record, 29-3 at home.
Four years ago, Georgetown was picked for 15th in the Big East, leading Pittsburgh columnist Bob Smizik to famously predict that schools like Georgetown "are going downhill and most don't figure to stop."
"Let them form a league of their own where one or two teams would make the tournament every year," he wrote.
The transformation of Georgetown over these four years didn't happen overnight--in John Thompson III's first game for Georgetown, the Hoyas shot 36% and lost to Temple by 18. But as the team became proficient in the motion offense, the transformation began, led by this year's seniors.
The years were transformative off the court as well. The aforementioned Temple game drew only 6,320 to MCI Center, part of a run of seven years where Georgetown did not average more than 8,750 per game. As the team grew up on the court, so did Georgetown's approach to its fans, reenergizing the fan base on campus and in the Washington DC community. As the team began to buy into the system, so did the fan base. The rise in attendance parallels the growth in the team:
| | | |
| --- | --- | --- |
| Home Attendance | All Games | Big East Games |
| 2004-05 | 7,837 | 10,296 |
| 2005-06 | 10,352 | 11,684 |
| 2006-07 | 10,441 | 15,077 |
| 2007-08 | 12,955 | 16,138 |
Together, the season finale is not only a culmination of this season, but of the four years of hard work made possible in part by these graduating seniors. Over those four years, there were many points at which the Georgetown basketball experience grew and developed. Here are ten to remember from the News Archives pages:
Great memories, and still a few more to come. To our soon-to-be alumni of the Class of 2008, thanks for bringing everyone along for the ride.
Jonathan Wallace makes his 131st consecutive start in Saturday's game, passing Eric Floyd for the second longest streak among Georgetown players.
Amidst a sold out crowd expected Saturday, Georgetown will welcome guests from Walter Reed Army Hospital as part of its efforts with the Wounded Warrior Project, according to a feature at GUHoyas.com.
The project, co-sponsored by Merrill Lynch, has a strong Georgetown connection.
"I...was motivated to develop this program after reading an article in the GU student paper, The HOYA, about the efforts of a baseball player, Alex Wayman (B'05), who was making regular visits to Walter Reed, sort of a one-person outreach program," said Merrill Lynch's Mark Siegel (B'89). "I contacted him and we visited Walter Reed to figure out what we could do that would be of maximum benefit to the wounded soldiers. Hosting patients and staff to GU home games with a pre-game meal at Clyde's was the idea, and it has been very well received. The games have become so popular that there are waiting lists at both Walter Reed and Merrill Lynch for each of our events."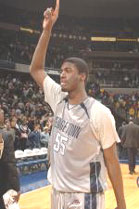 It's east to forget that four seasons ago, Roy Hibbert was considered more a project than a NBA first round prospect. Called no less than "the big stiff" by John Thompson Jr., Hibbert's weight and footwork were a definite concern when he committed to the Hoyas in November 2002, two years before his college debut.
Hibbert made his first start eight games into the 2004-05 season, where he averaged just 5.1 points per game. The off-season conditioning and footwork drills began to make an impact in 2005-06, where he was named second team All-Big East and averaged 12.7 points and 10.0 rebounds in three NCAA tournament games. Where once he was just a fan favorite, Hibbert's play soon became vital to Georgetown's move up the rankings in 2006-07.
Hibbert's development on both sides of the court was striking. In his freshman season, he failed to score in eight games, but by junior year he was second in the nation in shooting percentage, with 26 double figure scoring efforts and five straight double-doubles that powered Georgetown into the Final Four. The NCAA exposure and Hibbert's battle with NBA first rounder Greg Oden led many NBA scouts to consider Hibbert a top ten selection. Hibbert was "50/50" on the move, but announced in May, 2007 that he would return to finish his degree and complete his four years at Georgetown as so many have done before.
"I thought about it and said to myself, 'Do I really want to stay in the draft and sit on the bench?'" My heart was here," Hibbert said. "I feel like I have unfinished business here."
Hibbert has continued to raise his game in 2007-08, and in many ways has become the fulcrum for the Hoyas' success down the stretch. Like Jeff Green before him, as Hibbert goes, so go the Hoyas, and Georgetown would not be where it is this season without him.
"He has matured on and off the court this year," coach Thompson told the Washington Post. "He has been placed in basketball situations that he's never been in before, where he is the best player on his team. He's never been the best player on his team in his life. Just that maturation process, that understanding, has helped him grow and get better."
It's a far cry from the tentative freshman of 2004, and upon his graduation this spring Roy Hibbert, Jr. will present a body of work alongside some of the greatest in Georgetown basketball history: a top 15 career scorer, top seven in rebounding, top four in blocks. Ever the team player, Hibbert is the only Georgetown center ever to have more than 150 or more assists.
"Early in his career, [he] couldn't even run properly. Now his deft shooting touch inside the paint, and from the top of the arc, has made him a star," writes Mike Hume in the Falls Church News-Press. "Hibbert is so beloved that when students scream his name they then repeat it three times, in triplicate, to the tune of "Eye of the Tiger." How many other All-Americans have their own theme song?"
Let's hope the students can sing it one more time with a win on Saturday.
Five of Roy Hibbert's games to remember are noted below:
His statistics entering the Louisville game are below:

Year   G/GS     2FG   3FG     FT  REB AST  STL BLK  PTS   AVG
04-05 32/17   60-128  0-0   43-65  111  30  11  40  163  5.1
05-06 33/33  148-251  0-0  86-119  227  44   8  54  382 11.6
06-07 37/37  186-277  0-0 105-153  254  39  18  90  477 12.9
07-08 28/28  142-236  2-2  91-138  179  54  15  66  381 13.6
Total        536-892  2-2 325-475  771 167  52 250 1403 10.8

Roy Hibbert winds up his college years on the Verizon Center court Saturday, with the promise of return visits to come in the NBA. Congratulations to Roy and his family for all he has done at Georgetown, and for a four year commitment to the University.
President of his senior class. National Honor Society member. A three sport letterman who worked on a farm when he wasn't competing on the court. Yet for Jonathan Wallace, Division I scholarship offers were few and far between: Missouri State, Troy, and Samford. Wallace was headed to a financial aid offer at Princeton, that is, until coach John Thompson III signed with Georgetown. Wallace became Thompson's first Georgetown recruit, and set the stage for an amazing college career.
Thompson started the freshman in his first game and Wallace has been there ever since. In his first season he smashed all previous records for Georgetown walk-ons, and helped set the foundation for the Princeton offense that his teammates were still learning. By 2006, with Georgetown returning to the NCAA's for the first time since 2001, Wallace was squarely at the helm, shooting 41% from three point range and 79% from the line.
"He was just someone as a person that I wanted around the team I was coaching," Thompson told the New York Times. "And as a player, he did what he does now: He made every shot he took and didn't make bad decisions."
Wallace continued his development in 2006-07, scoring in double figures in 24 games and extending his mastery of the three point shot, becoming Georgetown's all time leader in threes made and in percentage. At a school which once labored mightily from three point range, Wallace made it an essential part of the Georgetown offense, none more so than in Georgetown's upset of #1 North Carolina in the NCAA regional finals. Averaging 10.4 points in his senior year, Wallace is now among the top 25 scorers in school history.
But statistics have never told the full story on Jonathan Wallace. Wallace's story has been one of hard work and persistence, on and off the court, and his personality has shown through in a series of features over the years which have given fans an added perspective of a student athlete that has exceeded every expectation, that is, but his own.
"You win with people like Jon Wallace," said Coach Thompson. "You look at him, he's not the fastest person in the world, he's not the strongest person, never will be. But he has character, he has guts, and he's a good man. He's willed his way through so many situations and is someone who has gotten the most of his God-given ability."
And when you're down three on the last play of the game, you know who'll get the ball.
Five of Jonathan Wallace's games to remember are noted below:
His statistics entering the Louisville game are below:

Year   G/GS     2FG   3FG       FT  REB AST STL BLK  PTS   AVG
04-05 32/32   21-53  47-126   26-33   68  71 39   2  209  6.5
05-06 33/33   40-91  49-120   34-43   79 106 33   0  263  7.9
06-07 37/37  67-127  73-149   68-78   75 113 29   2  421 11.4
07-08 28/28   41-70  56-131   40-50   51  73 22   1  290 10.4
Total       169-341 225-526 168-204  273 363 73 123 1183  9.1

Jonathan Wallace will join his classmates at Senior Day Saturday to close the home portion of his college career at Georgetown. Congratulations to Jonathan and his family for four remarkable years at Georgetown.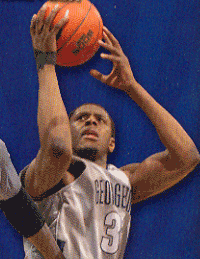 When Patrick Ewing Jr. moved from Atlanta to the Washington area in 2002, everyone assumed it was the signal that he was going to Georgetown. Problem was, Georgetown wasn't recruiting him, and other schools had backed off the 6-8 forward.
"I hadn't been recruited by many other people because they all assumed I was coming to Georgetown because of my father," said Ewing in this link to Athlon Sports. "My mom talked to people and put it out there that I wasn't committed to Georgetown yet."
The younger Ewing decided to set his own course, signing with Indiana. Coach Mike Davis opted to place the 6-8 Ewing as a center/power forward, with mixed results. He averaged 3.4 points a game over two seasons, and lost a starting role early in his sophomore season. In March 2005, Ewing gave notice to transfer from IU. He gave some thought about joining fellow Georgia AAU teammate Matt Causey at Georgetown, but Causey transferred that spring.
Ewing was hesitant to follow in the steps of his father, but met someone who could relate. "Coach Thompson [III] was the first person to call me up," said Ewing in this link to the New York Times "He said, 'You're your own person and your own player.'"
Ewing became the first Division I transfer to Georgetown in 36 years, turning in his #3 at Indiana for the familiar #33. But even in the jersey made famous a generation earlier, Ewing was his own man, adept at the small forward position and well suited to the role of a valuable sixth man off the Georgetown bench. His enthusiasm added a touch of excitement on the court, and the younger Ewing was not afraid to show his emotions on the court when making the big play.
For 2007-08, Ewing has split starting time with freshman Austin Freeman. Sixth in scoring and third in rebounding, he has been a factor in nearly every one of the Hoyas' big wins this season. And as he approaches the end of his college career, he has become a leader off the court as well, though not afraid to poke a little fun at his well known stature. At last year's athletic banquet, Ewing introduced himself as "the captain of the water polo team". But everyone knew better.
Much as John Thompson III has built his own identity amidst the fame of his father, so has Patrick Ewing Jr. He has not only made his family proud, but his University.
Five of Patrick Ewing Jr.'s games to remember are noted below:
His statistics entering the Louisville game are below:

Year   G/GS     2FG   3FG       FT  REB AST STL BLK PTS AVG
Indiana
03-04 28/9     31-60   1-1   13-27  102   6  17  13  78 2.8
05-06 29/5     40-82   2-6   31-54  110  22  18  21 117 4.0
Georgetown
06-07 36/0     38-65 16-36   23-43   75  39  14  17 147 4.1
07-08 28/12    49-76 12-37   40-62  120  42  24  16 174 6.2
Total 121/26 158-283 31-80 107-186  407 109  73  67 516 5.3

Patrick Ewing, Jr. will join his classmates at Senior Day Saturday to close the home portion of his two seasons at Georgetown. Congratulations to Patrick and his family for his contributions over these years.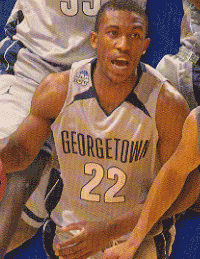 The elder George Bush was president, Allen Iverson was entering high school, and a pair by the names of Dikembe Mutombo and Alonzo Mourning patrolled the court for the Georgetown Hoyas. And a five year old in Staunton, VA became a Georgetown fan for life.
"I love this place, I mean, I look at all the guys that's been here before me," said senior Tyler Crawford (C'08) in this Feb. 7 article link. "I'm a part of something bigger than me."
Crawford was the only guard recruited in what would be Craig Esherick's last recruiting class. Signed in November 2003, Crawford's mix of scoring and rebounding prowess (16 points, 12 rebounds) proved promising to the up-tempo offense envisioned by the then-Georgetown coach. When John Thompson III arrived in April 2004, the offensive strategy changed overnight. With freshman guard Matt Causey already having transferred, Crawford worked to develop his talents as a reserve guard during the two seasons when Ashanti Cook (2002-06) started each of the next 65 games.
Crawford was set as the starting guard for the 2006-07 season opener against Hartford. Shortly thereafter, Crawford missed four games to what were called flu-like symptoms, and when he returned to play in mid December, freshman Jessie Sapp had taken over the starting spot. Sapp has started the last 64 games since.
It's been a frustrating two years for the senior guard, whose family and friends have traveled across the nation to see Georgetown games in which he may get couple of minutes of play, or none at all. He shot 50% from two point range and 39 percent from three in 29 games last season, but averaged less than five minutes per game in Big East play. This season, he averages about seven minutes per game.
Coach John Thompson III understands the role Crawford has developed on the team, calling the two- time captain the "heart and soul" of the club. As his college career winds to a close, Crawford has come up big in a number of recent games--a basket here, an assist there--that have piloted the Hoyas to the edge of the Big East regular season title.
No competitive player likes sitting on the bench, but it takes a level of maturity to understand it and learn from it. "I'm cool with whatever Coach thinks is best for this team," Crawford said. "Sitting on the bench watching and getting the team involved, or me playing forty minutes, you see what Coach has done each year we've gotten better."
Five of Tyler Crawford's games to remember are noted below:
His statistics entering the Louisville game are below:

Year   G/GS    2FG  3FG   FT    REB AST STL BLK  PTS  AVG.
04-05 24/0   16-24  7-24   4-5   29   8   3   0   57  2.4
05-06 22/0     2-8   1-6   1-6   14   2   0   1    8  0.4
06-07 29/1    6-12 15-39   2-4   42   9   8   0   59  2.0
07-08 22/0    7-14  3-21   4-6   26   9   7   0   27  1.2
Total 97/1   31-56 26-90 11-21  111  28  18   1  151  1.5

Tyler Crawford will join his four classmates at Senior Day Saturday, to close the home portion of a remarkable four years. Congratulations to Tyler and his family for the commitments and sacrifices made as a student-athlete over these years.
"I just knew I had to make the free throws. I knew what was at stake." --Jonathan Wallace
To a national TV audience that might not have believed the last ten minutes of this game, CBS announcer Gus Johnson had just the answer.
"Just look at the calendar," he said. "It's March!"
College basketball's best month kicked off with a bang, thanks to another improbable second half comeback by the Georgetown Hoyas, with a late game surge and a 70-68 overtime win that will rank among the great wins of the emerging John Thompson III era. The team battled back from poor outside shooting, a season high 21 turnovers, and an impassioned Marquette effort to earn itself a bye in the first round of the Big East conference tournament on March 12.
Like an NCAA tournament game, every possession proved critical. Georgetown held an early 6-4 lead that was felled by self-inflicted wounds: 3 for 9 shooting and five turnovers in the first five minutes of the game. While georgetown stumbled, the Warriors stepped up, beating the Hoyas at its own game--points in the paint. Each of Marquette's first 10 points came inside, shooting 60% from the field to take an 10-8 lead that they held for much of the game.
Georgetown struggled at all ends of the court to avoid the turnover. Tied at 10-10, Georgetown coughed up two turnovers that extended Marquette's lead to 15-10. Two more turnovers seemed to put the Hoyas down for the count, if not for the fact that each team missed its first five three point attempts and Marquette could not put distance between themselves and the Hoyas.

The threes were just around the corner. Jeremiah Rivers broke the Hoyas' drought with an three to close the gap to 22-20, answered by consecutive threes by Matthews and forward Dan Fitzgerald to extend the lead to eight. As if catching a second wind, Georgetown went to work. A Jon Wallace three and a inside shot by Vernon Macklin got the Hoyas to three, and following a Marquette free throw, Austin Freeman connected on a third three to close to one, 29-28 with 1:54 in the half.

Wes Matthews was big all half and ended it thusly. With an offensive rebound and a foul on the ensuing shot, Matthews connected on a three point play to go up four, 32-24. Three Georgetown shots and a turnover left the Hoyas down four at the half, 32-28, where the Warriors were 18-0 when leading at the half this season and 146-18 (.890) in Tom Crean's nine years at MU.

The stats were one-sided, but with a twist. Georgetown shot just 39%, 3-11 from three point range, and had more turnovers (12) than field goals (10). Matthews led the Warriors with 15 points but Marquette left the door open at the line. The Warriors shot just 3-10 from the line, and any better effort might have been the difference in the game. For Marquette to earn the second half win and a shot at a first round bye, the free throw line would be a turning point for both schools.

The second half started poorly for the G-men. Two missed shots, two turnovers, and a foul on Roy Hibbert allowed marquette to build a seven point lead, 35-28. The turnover bug began to bit the Warriors, as a pair of drops by Lazar Haywood opened the door for Georgetown to get the ball back inside. Outscored 14-0 in the first half in points off turnovers, GU went to work. The Hoyas got the ball inside to Hibbert to close to five, and took advantage of a Dominic James turnover to get the ball into Austin Freeman, 35-32. A missed jumper by Jerel McNeal was answered with a pass inside to Hibbert, who converted on the basket and foul to tie the score at the 16:09 mark 35-all.


Marquette record since 1999 when shooting more FT's than opponent.


Number of missed FT's by Marquette.


Georgetown shooting, second half.


Marquette shooting, second half.


Georgetown shooting, overtime.


Marquette shooting, overtime.


Georgetown turnovers in game.


Georgetown turnover in last 6:20 of 2nd half and into OT.


Georgetown's two-year record in games of 3 pts. or less.


From this point in the game, guard Jerel McNeal took command of the Marquette offense. He hit a jumper to give MU a two point lead, then stole the ball from Rivers, and was fouled on the ensuing basket, 40-35. McNeal took five shots in a 1:12 period midway in the half, and off consecutive Georgetown turnovers, Marquette extended the lead to 11, 48-37, as Hibbert picked up a perilous third foul with 12:10 to play.
The Warriors began to respond from the line, and hit four consecutive free throws to maintain its lead at 11 with 11:41 to play. The outside shot was not accommodating to the home team all afternoon, and when David Cubillan missed on a long attempt, it opened a second door that Georgetown drove through. The Hoya seniors took an 8-0 run to cut the lead to three, with jumpers by Jonathan Wallace, Roy Hibbert, and Tyler Crawford, and a pair of free throws by Wallace at the 8:18 mark, 50-47
Marquette pushed the lead back to seven at the 6:18 mark, only to see another Georgetown senior answer the bell. Patrick Ewing Jr., who had not hit a three pointer since the Villanova game on Feb. 11, sank the big three to close the lead to 54-50.
Over the next five minutes, the teams combined for just one field goal, as stout defense and free throws were the order of the day. Marquette was held to just one free throw in a 2:26 run that saw Georgetown hit 4-5 from the line and allow Ewing to find Wallace for a back door layup and the lead with 3:32 left, 56-55.
As the teams dueled from the line, Marquette missed two free throws in a crucial late stretch, a and led by two with 1:48 left. Hibbert answered inside to tie, 59-59 at the 1:07 mark, but the Hoyas let reserve center David Burke inside for an offensive rebound, dunk and foul at the :31 mark. Up two, Burke missed the free throw.
On its next series, Ewing was fouled, making one of two, 61-60. With the shot clock out, Rivers followed McNeal with :07 left, where he hit two, 63-60. With no time outs remaining, Jonathan Wallace drove the length of the right sideline, hoping to set up for a shot in the corner. As he was setting up, Dominic James bumped him on the way up, and as soon the whistle sounded James fell to the floor in frustration. Leading by three, he had just sent Georgetown's all time leading FT shooter to the line....for three shots. And this was no Villanova-style decision--it was a foul and James knew it.
The first one, good.
The second, good.
And following a Marquette time out, Wallace's third shot hit the side of the rim, bounced one, two and then three times across the cylinder, and dropped in. Overtime!
Well, not so fast. Marquette got the ball into the front court when a pass was intercepted by Ewing but he stepped out of bounds by Ewing with 1.5 left. Off the inbounds, Lazar Haywood's shot was wide, and it was then on to OT.
The specter of the line haunted Marquette early in the overtime. James missed one of two shots to give the Warriors a one point lead, 64-63. Ewing missed on a three point attempt, and following a Rivers foul, McNeal sank two shots, 66-63. On its next series, Georgetown had no shot and left Wallace 25 feet out with the shot clock running down. As the shot clock went to zero, Wallace (who was 1-5 from outside in the game) launched a 25 foot bank-shot, and the Hoyas cashed in, 66-66.
Marquette missed three straight shots, which the Hoyas converted via the free throw line, with 3-3 shooting to lead 69-66. In need of a basket, Marquette got it with a McNeal offensive put back, 69-68, but could not stop the clock until fouling Wallace with :09 left.
Wallace made the first, his seventh straight, but the eighth rolled around and out. James hustled the ball up court, but with Rivers and Sapp in his way and McNeal nearby, James' attempt at a pass was broken up by Sapp, who flipped the ball downcourt to close out a tremendous game.
"We could have packed it in at several points during that game, but our guys were just a little too resilient," said coach John Thompson III.
Wallace and Hibbert each scored 20, but the entire team came up big in different ways. DaJuan Summers was scoreless from outside but contributed a career high 14 rebounds, playing all 40 minutes. Jessie Sapp was held scoreless for the first time since the 2007 NCAA semifinal against Ohio, but his late game defense was vital. Crucial baskets by Patrick Ewing Jr. and Tyler Crawford helped the Hoyas at key moments, while Vernon Macklin picked up two early baskets at a time when Georgetown desperately needed them.
With the win, Georgetown is assured of finishing no lower than a second seed heading into the Big East tournament, and could do something no Georgetown team has ever done--win back to back regular season titles--with a win over Louisville on Senior Day next Saturday. If that game is anything like this one (minus the turnovers, of course), it'll be another chapter in the nothing short of remarkable road traveled by this senior class.
Here's the Georgetown half of the box score.

         MIN   2FG   3FG   FT  REB  A  PF  PTS
Starters:                                 
Wallace   39   3-4   2-6   8-10  1   4  4   20
Sapp      17   0-1   0-1   0-0   3   1  3    0
Ewing     34   0-2   1-3   4-6   9   3  2    7  
Summers   40   2-3   0-5   2-3  14   2  3    6
Hibbert   31   7-11  0-0   6-7   6   2  4   20
Reserves:
Macklin    7   2-2   0-0   0-0   0   1  2    4  
Rivers    30   1-1   1-2   1-2   4   0  4    6
Freeman   21   2-3   1-2   0-0   2   2  3    5
Crawford   6   1-1   0-0   0-0   0   0  1    2
DNP: Wright, Jansen, Mescheriakov, Wattad 
Team Rebounds                    0
TOTALS   200 18-28   5-19 21-28 39  15 26   70

Post-game links follow below.
---
HoyaSaxa.com: The One-Stop Web Site For Hoya Basketball™
An independent web site not affiliated with Georgetown University. All rights reserved.